TUESDAY, 6:15pm: While Kaepernick isn't totally opposed to the idea of reducing his salary as part of a trade, he isn't interested in a pay cut as significant as Denver has proposed, writes Mindi Bach of CSNBayArea.com.
A source tells CSNBayArea.com that the Broncos actually want to reduce Kaepernick's salary to $7MM for 2017 in addition to 2016. Considering the Niners quarterback currently has the ability to earn more than $14MM in 2016 alone through base salary and bonuses, it makes sense that he wouldn't have interest in a deal that would pay him about the same amount over the course of two years.
MONDAY, 6:43pm: The talks have stalled due to the issue with Kaepernick's salary, but they're not necessarily done for good, Mark Maske of The Washington Post tweets.
1:18pm: Colin Kaepernick is staying put in San Francisco, at least for now. The 49ers quarterback refuses to take a pay cut and the Niners are refusing to pay off part of his contract to help facilitate a trade with Denver, according to a source who spoke with Jason Cole of Bleacher Report (on Twitter).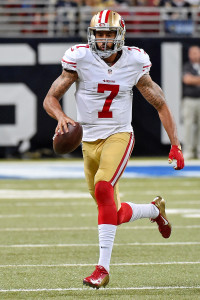 Trade speculation involving Kaepernick swirled all weekend, with conflicting reports on whether or not the Broncos and 49ers were close to reaching a trade agreement. Although there was some disagreement on how close the two sides were on agreeing to trade compensation, virtually every report suggested that Denver would want Kaepernick at a reduced salary. Now we know that No. 7 is unwilling take a pay cut from his current $11.9MM figure, which is fully guaranteed. The Niners are also unwilling to eat a portion of that to ease the Broncos' financial commitment.
Earlier today we learned that Kaepernick was spotted on a flight from Denver to the Bay Area, meaning that he is reporting to the 49ers. By reporting, Kaepernick is able to cash in on his $400K workout bonus, but he likely won't be able to do much as he continues to rehab from injuries.
The Broncos' quarterback depth chart currently consists of Mark Sanchez and Trevor Siemian and while they have said that they would be willing to head into the season with Sanchez as the starter, they have been exploring their options and heavily considering a Kaepernick deal. The 49ers, meanwhile, have Blaine Gabbert under contract and theoretically could afford to part with Kaepernick. Still, they have been steadfast in their desire to get value in return for the one-time superstar and unwilling to split the check.
Photo courtesy of USA Today Sports Images.
Follow @PFRumors