In the wake of the Eagles making the move to acquire the No. 2 overall pick with an eye towards drafting a franchise quarterback, incumbent starter Sam Bradford has reportedly been voicing his displeasure. "He's hot," one source told Adam Schefter of ESPN.com. "Who wouldn't be? This is Philly saying, 'We don't see (you) as long-term answer.' He's mad and wants to show everyone who's best."'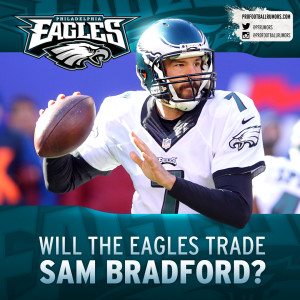 Reports began to leak that Bradford might want out of Philadelphia, and yesterday, the news dropped that Bradford – via agent Tom Condon – had officially requested a trade. Bradford reportedly wants to find a team that will commit to him for the long term, but it's easy to identify with the Eagles' stance: Bradford agreed to a contract, and it was a only two-year deal at that, meaning Bradford never should have been under any illusion that he was viewed as the long-term answer in Philadelphia.
Still, if another club is looking for an answer at quarterback, Bradford might not be a bad option, especially financially. An acquiring team would only be on the hook for Bradford's $7MM base salary in 2016, before becoming responsible for his $13MM base salary and $4MM roster bonus in 2017. The Eagles would take on $11M in dead money by trading Bradford in the near future, or, if they wait until after June 1, they'd be hit with $5.5MM in dead money in 2016, and another $5.5MM in 2017.
Philadelphia is reportedly unwilling to consider dealing Bradford at the moment, but that public stance might just be posturing on the Eagles' part, perhaps in an attempt to drive up the price tag. Let's take a look at some possible destinations for Bradford if the Eagles do relent…
Denver Broncos — Denver is the most logical suitor for Bradford, given that the club has already inquired on his availability. Though there's been no word on exactly what the Eagles were seeking in exchange, the Broncos reportedly found the asking price too exorbitant. That's not to say a trade couldn't eventually be worked out, especially given that Bradford makes a lot of sense for Denver from a financial perspective. General manager John Elway & Co. reportedly want fellow trade target Colin Kaepernick to agree to a $7MM base salary to facilitate a trade to Denver, while Bradford, as noted, is already locked into a $7MM salary for 2016.
Buffalo Bills – General manager Doug Whaley and the rest of the Bills' front office has seemed oddly non-committal towards incumbent starter Tyrod Taylor, especially considering how well the 2015 free agent signee played last season. Buffalo has taken visits with some of the draft's top quarterbacks, and was originally thought to be linked to Bradford last year (though those reports were later disputed). If the Bills aren't sold on Taylor, it's possible that Bradford could appeal to them if they consider 2016 a must-win season. This is entirely speculation, but since the Broncos coveted Taylor last offseason, and already inquired on him earlier this month, might a three-team trade sending Taylor to Denver, Bradford to Buffalo, and draft picks to Philadelphia work for everyone?
San Francisco 49ers — Chip Kelly has a familiarity with Bradford, having traded for him last year as head coach of the Eagles. Bradford would immediately start in San Francisco, especially if the 49ers are able to ship Kaepernick to Denver. One issue, however, might be the difficulty of Kelly and GM Trent Baalke negotiating a deal with Philadelphia — as Mike Klis of 9NEWS noted this week, Eagles de facto GM Howie Roseman likely has no interest in helping out Kelly, given the pair's troubled work history. It's also not clear whether Bradford would want to reunite with his old head coach.
Cleveland Browns — Having been involved in the Bradford sweepstakes a year ago, might the Browns have interest again this time around? It's doubtful, but not because Cleveland doesn't need a quarterback. The Browns are embarking on a full rebuild with an eye towards the future, and Bradford seems to be a better fit for a win-now club. Rolling with Robert Griffin III and a draft pick seems to be the far likelier scenario for Cleveland.
If Bradford continues to sit out Eagles workouts, he could quickly present a distraction that the Eagles front office would seek to mitigate. As such, it wouldn't be completely shocking if Bradford is dealt during the upcoming draft weekend. If not, his presence on the Eagles' roster is certain to remain a key NFL storyline in the coming weeks and months.
Follow @PFRumors