Johnny Manziel will enter a plea of not guilty when he is brought before a judge, attorney Bob Hinton told reporters, including Jennifer Emily of The Dallas Morning News. When that time comes, Hinton says that he will not ask for any sort of leniency based on Manziel's celebrity status.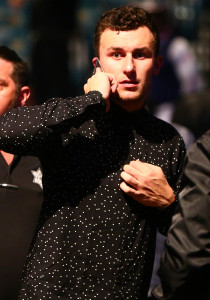 [RELATED: Dallas Grand Jury Indicts Johnny Manziel]
"Judge, set the bond at whatever you think is right," Hinton said he plans to say. "We will produce Johnny and we will pay the bond. We are not asking for any special treatment."
The NFL's own investigation into the incident is ongoing, a league spokesman confirmed to the Dallas Morning News. If Manziel signs with a new team and he is found to have violated the NFL's personal conduct policy, he would face a minimum six game suspension for his first offense. A second violation would result in a lifetime ban, per the rules. Even if Manziel is not found guilty in court, he can still face punishment from the league. If he is found guilty, Manziel could face up to a year in jail and a $4K fine.
The Browns cut the former Texas A&M star in March and two agents have dropped Manziel as a client in 2016.
Photo courtesy of USA Today Sports Images.
Follow @PFRumors