TUESDAY, 8:14am: Gordon's possible reinstatement will be delayed for the time being, tweets Adam Schefter of ESPN.com. According to Schefter, the NFL would like to see 60 to 90 days of no red-flag tests before the league will feel comfortable considering reinstatement.
Since the season doesn't get underway for another five months or so, that still leaves a window for the wideout to be reinstated in time to play in 2016, if he's able to stay clean.
MONDAY, 5:44pm: Browns wide receiver Josh Gordon has failed yet another drug test, according to Mike Garafolo of FOX Sports. Gordon, of course, has been awaiting reinstatement into the NFL and this latest failed drug test has apparently gotten in the way of that.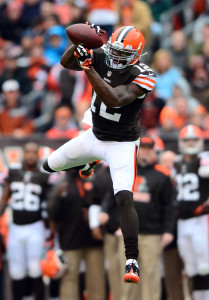 [RELATED: Gordon Living With Ex-Browns QB Johnny Manziel]
The NFL collected a sample from the suspended Browns receiver in March. Both the "A" and "B" samples of Gordon's urine were flagged as diluted and came up positive for marijuana. While the actual level of marijuana was below the 35 nanograms per milliliter required for a positive test, the diluted sample is considered a positive test.
Gordon applied for reinstatement on January 20th and the league's policy states that a verdict must be reached within 60 days. We haven't heard much on the former supplemental draft pick in the last few weeks and today's news probably explains why he has been in limbo. Goodell has yet to rule on Gordon's reinstatement request, according to a source who spoke with Garafolo.
Since his entry into the league in 2012, Gordon's NFL career has been tumultuous to say the least. He missed the first two games of the 2013 season following a drug suspension, but then went on to lead the NFL in receiving yards, finishing with 87 receptions for 1,646 yards and nine touchdowns. Gordon will celebrate his 25th birthday on Wednesday.
Hopes were high for the 2014 season, but Gordon's off-the-field issues resurfaced, as he was first arrested for DUI, and then suspended for one year after again violating the league's substance-abuse policy. He was eventually reinstated after only 10 games as part of the NFL and the players' union agreeing to a new drug policy, which reduced the sentences for some players-in-limbo. The Browns subsequently suspended Gordon for the final contest of the season after he reportedly violated team rules, and then a failed alcohol test resulted in the wideout's ban of at least a year last February.
Photo courtesy of USA Today Sports Images.
Follow @PFRumors