After spending the last week "sniffing around on the situation," Jason La Canfora of CBSSports.com is more convinced than ever that Michigan State quarterback Connor Cook will come off the board earlier than expected in this year's draft.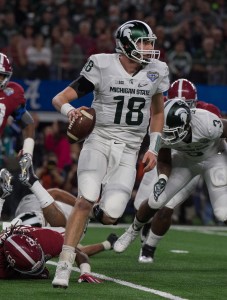 While other quarterbacks, such as Jared Goff, Carson Wentz, and Paxton Lynch, are being discussed more frequently in media circles, La Canfora suspects that a few NFL teams are hoping Cook flies under the radar.
According to La Canfora, at least one club is considering moving up from the second round to late in the first round to take Cook, if he's available, and several teams have him rated as the second-best quarterback on their boards.
"We like the kid a lot," said an executive from one team that has Cook second on its draft board. "We don't think there is a whole lot separating some of these quarterbacks and Cook is the most ready to play. Goff, look at his tape against Utah, it's not pretty. And Wentz, there is a lot to like there, but he needs to go somewhere and sit for a year or two and develop."
Cook will have a busy schedule this week, according to La Canfora, who writes that the QB is visiting the Cowboys, Dolphins, Broncos, and 49ers. Cook will also visit the Jets and Bears, and work out for the Rams. He has previously visited the Ravens and Bills, and met with the Browns.
Here are a few more updates on quarterbacks who are seeking NFL jobs:
Follow @PFRumors