When news broke on Wednesday that the Patriots had decided to waive defensive tackle Dominique Easley, it came as a surprise — although Easley had been plagued by injuries during his first two years in the NFL, his stock certainly hadn't fallen as far as that of Johnny Manziel, the only other 2014 first-rounder to be cut by his team already.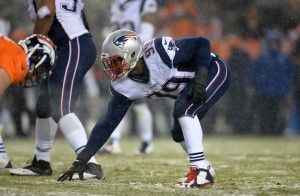 [RELATED: Patriots waive Dominique Easley]
According to Tom E. Curran of CSNNE.com (Twitter link), there wasn't one incident that led to Easley's release. However, it does seem as if there were a few factors beyond the lineman's play on the field that played a part in the decision.
Curran alludes to "philosophical differences on following injury programs," while Aaron Wilson of the National Football Post (all Twitter links) notes that Easley is facing a lawsuit in Palm Beach County from a man alleging that he was bit by Easley's dog. Ben Volin of the Boston Globe hears that Easley – who has a fondness for pit bulls and other aggressive dogs – may be bracing for two more similar lawsuits.
Meanwhile, multiple sources tell Volin that the 24-year-old is "unreliable and immature," and an unnamed former teammate referred to him as a "locker room cancer." Said one source to Volin: "I think he rubbed a lot of people the wrong way. He comes across as an entitled kid. He reneges on everything. He thinks he's invincible."
Despite whispers about possible poor off-field behavior, Easley remains a talented contributor on the field when he's healthy. He didn't see enough snaps to earn a spot on Pro Football Focus' rankings for interior defensive linemen last season, but his +81.5 grade would have placed him 24th at the position if he had played a little more.
New agent Drew Rosenhaus, who admits he was surprised by the move, said on Wednesday that he expects Easley to be on another team soon, per Alex Marvez of FOX Sports (Twitter link). It's possible that the former first-rounder won't even reach free agency — teams have the opportunity to place a waiver claim on him, to assume the final two years of his rookie contract from the Pats.
Photo courtesy of USA Today Sports Images.
Follow @PFRumors