The Rams are leaning towards taking Cal quarterback Jared Goff with their newly-acquired No. 1 pick, according to a team source who spoke with Adam Schefter of ESPN.com. However, he hears the Rams will still consider North Dakota State QB Carson Wentz between now and the draft at the end of the month.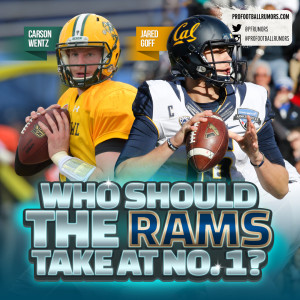 Meanwhile, John Clayton of ESPN.com (on Twitter) believes that the Rams will select Wentz. On top of that, a Rams source tells Benjamin Allbright of 1340 AM Denver (on Twitter) that Wentz will be the pick and the decision was "made awhile ago."
[RELATED: Rams Acquire No. 1 Pick From Titans]
Schefter's source added that one reason the Rams made their deal with the Titans so far in advance of the draft was to give the team "two weeks to debate between Goff and Wentz. You can make a convincing case for both. Both are going to be good." At the very least, it does sound as though Wentz is in the picture for the top pick.
So, what do we make of these conflicting reports? It's possible that there are misinformed team sources, but it's also possible that the Rams are intentionally throwing out a smokescreen to keep an air of mystery around them heading into the draft. With the Eagles and other teams interested in landing one of the two QBs, it seems quite possible that there will be a trade at No. 2.
Before agreeing to send their top pick to the Rams, the Titans spoke to the Eagles about a similar deal, but Philadelphia withdrew its offer a few days ago. Philly could still explore a similar deal to acquire the No. 2 pick in the draft which would allow them to take whichever top quarterback isn't selected by the Rams. The Browns, of course, could also stay put and draft one of the QBs.
The Rams got the top pick that they coveted, but it did not come cheap. To get the No. 1 pick, Los Angeles shipped the 15th overall pick this year, two second-round picks (Nos. 43 and 45), and a third-round pick (No. 76) plus the Rams' 2017 first-round and third-round choices in 2017. The Rams also received a fourth-round pick (No. 113) and sixth-round pick (No. 177) from Tennessee.
As of this writing, the Rams have quarterbacks Case Keenum, Nick Foles, and Sean Mannion on the roster. While coach Jeff Fisher has indicated that Keenum is the favorite to start in 2016, the Rams are looking for a stronger long-term option under center.
Photo courtesy of USA Today Sports Images.
Follow @PFRumors