Two days away from the Broncos convening for their initial voluntary workouts of the offseason, Von Miller called Gary Kubiak to inform him he won't be in attendance for the summer program, Mike Klis of 9News reports.
Slapped with the exclusive franchise tag worth $14.129MM, Miller expressed regret to the second-year head coach during the conversation due to the fact he doesn't have a long-term contract with the Broncos yet, sources told Klis.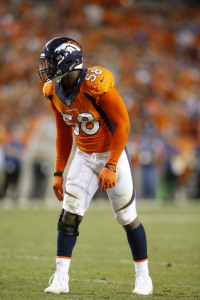 But the sixth-year linebacker's absence isn't surprising. He has not signed his tenure and is pursuing a landmark contract for a defensive player. We heard last week the Broncos' best offer so far to Miller was more than $17MM per year. Denver hasn't moved far off that number, with its latest proposal hovering around $18MM AAV, Klis reports. The Broncos have been resonant in wanting to keep his price tag below Ndamukong Suh's $19.06MM-per-season accord, per Klis.
The Broncos and Miller's agent, Joby Branion, have continued negotiations this week, Klis writes.
Miller finds himself in the on the same terrain as Muhammad Wilkerson. Both pass-rushing dynamos have observed many of their fellow 2011 draft picks — from Cam Newton, to J.J. Watt, to Marcell Dareus, to A.J. Green — receive lucrative extensions, while both the Jets' and Broncos' stars from that class played their 2015 seasons on the team-friendly fifth-year options and are currently among the franchise-tagged contingent.
Although, Miller hasn't been connected with any trade rumors like Wilkerson. The Broncos have signed each of their three prior tagged performers under sixth-year GM John Elway.
Miller's stance remains that he's worth far more than what the Giants paid for Olivier Vernon, whose $17MM-per-year deal is structured so the former Dolphins standout receives $29MM in Year 1. New York could afford to structure Vernon's deal this way due to a cap situation far friendlier than what Denver was working with going into the offseason.
The Broncos currently possess $8.2MM, according to OverTheCap, but that is with Miller on their books for $14.129MM. A long-term deal would bring this 2016 figure down, and Denver could afford to pay out more of Miller's presumptive contract down the road. The team's $80MM+ in space available in 2017, as of now, represents the most in the league.
None of the Broncos' three previous franchise-tagged players under Elway's regime — Matt Prater, Ryan Clady and Demaryius Thomas — participated in offseason workouts, so despite his expectation that Miller would be back in Denver on Monday for the start of the 2016 program, it's hardly shocking that the Dancing with the Stars participant won't be.
Photo courtesy USA Today Sports Images
Follow @PFRumors