APRIL 28, 5:04pm: As expected, Foles will likely be the odd man out after the Rams draft a quarterback tonight, says Nick Wagoner of ESPN.com (Twitter links). The club is hoping to trade him rather than release him — a source tells Wagoner that "four or five" teams have reached out about Foles, but some of those clubs may want to see how the draft plays out before making any decisions.
APRIL 25, 2:44pm: While one of the two quarterbacks involved in 2015's Rams/Eagles trade asks out of Philadelphia, trade rumors are also beginning to swirl around the other signal-caller who was a part of that deal. According to Adam Schefter of ESPN.com (via Twitter), Nick Foles of the Rams has drawn interest from several teams, and will be worth keeping an eye on this week.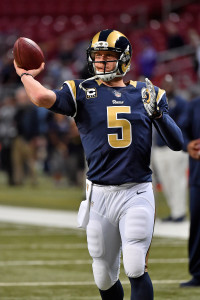 As is the case in Philadelphia, where Sam Bradford isn't thrilled with the idea of sharing the quarterback room with both Chase Daniel and the No. 2 overall pick in the draft (likely Carson Wentz), the Rams may have one too many QBs on their roster if they don't make a move. Los Angeles currently holds the No. 1 pick in the draft, and is expected to use it on Jared Goff, who would join Foles, Case Keenum, and 2015 third-rounder Sean Mannion on the team's QB depth chart.
While it's possible that Keenum or Mannion could become the expendable quarterback in Los Angeles, it makes more sense that the team would move on from Foles. GM Les Snead and head coach Jeff Fisher have talked up Keenum all offseason, and the fact that the club placed a first-round tender on him shows that he's valued in L.A. Meanwhile, Mannion is more of a developmental signal-caller at this point in his career, and likely wouldn't be able to step into a situation where he'd be counted on to play at all in 2016.
Foles, on the other hand, has plenty of starting experience, and could be a good fit as a backup elsewhere. Because the Rams have already paid his guaranteed $6MM roster bonus for the 2016 season, Foles would also come at a very affordable rate for any team interested in acquiring him — only his $1.75MM base salary for '16 would count against a new team's cap. Of course, his new team would also take on the rest of his contract, including a non-guaranteed $10.75MM base salary for 2017.
With a number of teams – including perhaps the Cowboys, Bears, and Steelers – in the market for a veteran backup under center, the Rams could land a day-three pick for Foles if they're willing to move forward with Keenum, Mannion, and their first overall pick. Given how many selections the Rams surrendered to move up from No. 15 to No. 1, getting back a pick, even a late-rounder, would make sense for the club.
Photo courtesy of USA Today Sports Images.
Follow @PFRumors