The Broncos are the defending champions, but they're not the odds-on favorites in Las Vegas to repeat. This offseason, the Broncos saw future Hall of Famer Peyton Manning retire and while promising backup Brock Osweiler left via free agency. As if finding a new solution at quarterback wasn't enough of a challenge for GM John Elway, the team also had to deal with the departure of defensive end Malik Jackson, who inked a six-year deal worth up to $90MM with Jacksonville.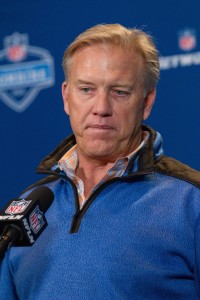 After an eventful winter and spring, Elway sat down with Jason Cole of Bleacher Report to discuss the tough decisions that he made and the challenges ahead for Denver. Here are some of the highlights:
On the challenge of finding a new quarterback
Elway: There are challenges every year. That's why this year in free agency and all that, there are challenges every year trying to keep things together. So that's always a challenge. Was it a big surprise that we were in that situation? Yeah, because I thought…we drafted Brock [Osweiler] when we got Peyton [Manning] because we didn't know exactly what Peyton was going to be. But also, if [Manning] wasn't in good shape, we were going to a guy who was going to be here for a long, long time. Now, that didn't work out, so it was a matter of, you have to fix the issue. There are going to be issues every year.
[RELATED: What will it take for the Broncos to extend linebacker Brandon Marshall?]
On taking his time in the QB search
Elway: Well, the first thing we did is we got Mark [Sanchez] and I feel good about Mark. So by getting Mark—and we're a lot higher on him than a lot of people are—so once we landed Mark and he was here, we felt better about the situation. It was a matter of bringing somebody in for competition. But of the guys who were out there at the time, there were no difference-makers. So why would I overpay for a guy who wasn't going to be a difference-maker?
On the athleticism of rookie quarterback Paxton Lynch
Elway: He's very consistent with the way he throws it, the release, all that stuff. Very consistent and athletic. He can move around.
On Mark Sanchez and whether he fits the Broncos' offense
Elway: I feel good about Mark. I think he's got a chance. If a guy is talented who can move around and do different things…he's had success in the playoffs. He's been to the AFC Championship Game. He has won playoff games. Those are all things that you wonder about guys who haven't done it and you don't know how they will react when they get there. He's proven he can do that. Has Mark ever been in the perfect situation to prove what he can do? A lot of times, quarterbacks don't get in the right systems that fit them. That's a big part of this. So I think this is the type of offense that will benefit Mark and knowing what they did in New York and what they did in Philadelphia. He moved all around. You get him with the right coach in the right system and good people around him and you have a little chance.
Photo courtesy of USA Today Sports Images.
Follow @PFRumors