Even if the Broncos can come to an agreement with Von Miller on a massive multi-year deal, the team could see some major changes on defense after 2016.
Four members of the Super Bowl champions' historically elite unit will hit the open market after this season, and even though the Broncos will have more breathing room in 2017 than they have in recent years, more tough choices are coming.
Those impending decisions include talents like DeMarcus Ware, Darian Stewart and Sylvester Williams. However, Denver's top defensive priority will likely be Brandon Marshall.
Denver hasn't invested much at the inside linebacker position as of late, but Marshall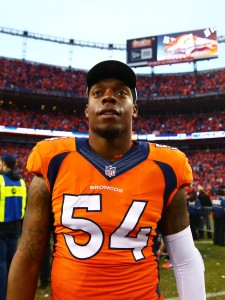 has been one of the league's best non-rush linebackers since joining the Broncos' starting lineup in 2014. The 26-year-old 'backer — who has yet to sign his RFA tender — presents an interesting case for long-term employment despite Denver's ILB stinginess.
The Broncos didn't try very hard to retain Danny Trevathan this offseason, as they had higher-priority players to address. In previous years, the Broncos allowed Wesley Woodyard and Nate Irving to join up with AFC South teams on mid-level deals rather than retain them. Trevathan scored a four-year, $24.5MM deal to place him in the upper echelon of inside linebacker deals in terms of AAV. With another strong season and with the salary cap set to rise, Marshall seems likely to surpass that.
Trevathan serves as a good comparison for Marshall since they functioned in similar capacities for the Broncos last season and entered the league in 2012 as Day 3 picks. One key difference between the two players, however, is that Marshall split time between the Jaguars' 53-man roster and taxi squad in his rookie year. That vacillation delayed his service-time clock, meaning the Broncos avoided both of their starting inside linebackers becoming UFAs in the same year.
Trevathan's free agency arrived when Miller, Brock Osweiler, Malik Jackson and Derek Wolfe were set to hit the market. Denver's next set of notable expiring deals — the aforementioned defenders and Emmanuel Sanders — don't present quite the financial matrix that 2016's contingent did.
The previous year's logjam featuring Julius Thomas, Orlando Franklin and several others probably appeared more daunting as well. As of this writing, the Broncos stand to possess the NFL's most cap space in 2017 at $66.25MM. While this number will plummet should Miller sign by July 15, Denver's brass will likely give more consideration to keeping Marshall than they did to retaining Trevathan.
Like Trevathan, Marshall successfully relocated to the inside after undergoing offseason surgery. Denver's shift to a 3-4 featured a smooth transition thanks in part to Marshall's quick adjustment. Already a well-reviewed player as a 4-3 outside 'backer in 2014, Marshall showed no ill-effects from his foot surgery. In 2015, Marshall racked up 101 tackles and nine stops behind the line of scrimmage, tying him for the team lead with Miller and Wolfe.
While we're on the subject of comps, it should be noted that Marshall finished with 11 tackles for loss in 2014, placing him third among non-rush 'backers that season behind Lavonte David and DeAndre Levy. Both David and Levy received top-market extensions last summer. Pro Football Focus tabbed Marshall as a top-12 non-rush linebacker in 2014 and '15, and a repeat could put him in line for a big payday.
Marshall separated himself somewhat from Trevathan in terms of functionality last season, serving as a three-down linebacker more often. The Broncos deployed their former practice squad talent on 1,120 snaps during 16 regular-season games in 2015, with the slightly smaller Trevathan lining up on 913 in 15 contests.
While the Broncos' successful 2011 and 2012 draft classes created a glut of UFAs tha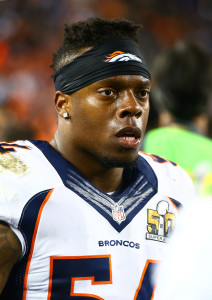 t mostly defected to other teams the past two years, 2013's draft did not go as well. That stands to provide some additional upcoming flexibility. Only Williams and Kayvon Webster remain on the team from that class, but with Marshall's free agency being postponed a year, he serves as a de facto '13 pick.
The Broncos stand a better chance of signing him to an extension as a result.
Denver hasn't paid notable money for an inside linebacker since re-signing Joe Mays in 2012 on a three-year, $12MM deal. The Broncos benched Mays for an aging Keith Brooking midway into that season and released him before 2013, a campaign that featured XFL survivor Paris Lenon starting at middle linebacker in Super Bowl XLVIII.
The John Elway era has generated the most consistently dominant play from the Broncos in their 56-year history, but it hasn't involved significant payouts to the linebackers who are not responsible for harassing quarterbacks.
Beyond Marshall, the team's current landscape at inside linebacker is pretty thin. The Broncos did not draft an ILB last month and are counting on special-teamer Todd Davis to succeed Trevathan. A 2014 waiver claim, Davis logged 139 snaps last season and could profile as the Broncos' next bargain-bin success story at this position. Needless to say, Marshall will be pivotal to stabilizing this corps.
It could cost as much as $8MM per season for the Broncos to keep their top inside linebacker.
The experience chasm between Marshall and his cohorts could enhance his leverage, should the Broncos not reach an extension before his contract expires. With a monstrous Miller payout likely coming and just $6.01MM in cap space available currently, Marshall may have to wait a bit for his payday.
Marshall's age won't be a big factor in his next deal; he's set to turn 27 in September. Although he is not going to reside on the Luke Kuechly/Bobby Wagner financial tier even with another standout season, his versatility to excel as a 3-4 inside presence or on the outside in a 4-3 scheme makes a $7MM-plus deal per year (the Mychal Kendricks/Sean Lee/K.J. Wright tier) look reasonable.
Levy's four-year, $33.7MM Lions extension could be Marshall's target, but he may fall short of that, even if he hits free agency. However, the salary cap rose from $143MM in 2015 to $155MM in advance of the 2016 league year, with the next elevation set to aid the ensuing crop of UFAs' cause. So, it's not impossible he rises to the Levy level — no one exactly predicted Malik Jackson would become a $14MM-AAV player going into his contract year — but it's merely improbable right now.
Trevathan's $6MM-plus AAV salary probably won't be sufficient for the Broncos to keep Marshall off the market, but Elway and Co. have excelled at convincing cogs to sign team-friendly deals as the recent in-season extensions for Wolfe and Chris Harris showed. Marshall, though, may be a bit harder to sway, especially after seeing so many of his draft-class peers become UFA-eligible before him.
Hoping for a new deal before the season, Marshall hasn't signed his $2.55MM second-round tender. He'll almost certainly sign soon, considering the Broncos hold the leverage with the ability to rescind the tender after June 15 and pay him 110 percent of his 2015 salary, which was $585K.
With the 29-year-old Sanders residing as a key component of the Broncos' passing game, he looks to be the highest free agent priority, should Denver lock up Miller. But with so many expiring defenders, it might be wise to re-sign a front-seven piece that's proven to excel in Wade Phillips' system.
As the Broncos transition to a new quarterback, keeping as many of their young, established starters from the best defense in team history will be paramount. Such a task will be more easily attained without a franchise-quarterback salary anchoring the payroll.
With Wolfe and Harris having already signed, Marshall meets this criteria as well as anyone.
Photos courtesy USA Today Sports Images.
Follow @PFRumors