The Browns, with the No. 2 overall pick in the 2016 draft but with a fairly depleted roster, were looking to trade the N0. 2 pick in an effort to acquire more selections and address their numerous weaknesses with as much young talent as possible. Apparently, though, they did not know just how fruitful such a trade would be.
Rather than keeping the No. 2 overall pick and selecting quarterback Carson Wentz or an elite defensive prospect like Jalen Ramsey, the Browns–who had already signed Robert Griffin III in free agency–traded the pick, along with a fourth-round selection in 2017, to the Eagles in exchange for the No. 8 overall choice, a third-rounder and a fourth-rounder in 2016, a first-rounder in 2017, and a second-rounder in 2018.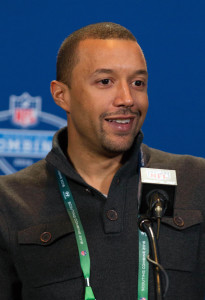 Cleveland executive VP of football operations, Sashi Brown, speaking at a state of the team address at the Browns' Fan Fest yesterday, said, "We were pleased with it. I was a little surprised we got as much as we did, but some hard negotiating and [VP of player personnel Andrew Berry] was a big help in that, keeping me at bay and not pulling the trigger too soon. We were able to come away with what should be the foundation of the championship team that we're going to build." (link via Mary Kay Cabot of The Cleveland Plain Dealer).
The Browns, of course, were not done there. On draft day, they dealt the No. 8 overall pick from Philadelphia to the Titans in exchange for Tennessee's No. 15 overall choice, the No. 76 overall choice, and a 2017 second-rounder. After even more wheeling and dealing, Cleveland ended the draft with 14 new players, including a quarterback, Cody Kessler, and now have two first-round and two second-round picks in 2017.
But building upon that youthful foundation and turning it into a winning product is an entirely different matter, as Browns fans know all too well. As Brown said earlier this month, "You always have that second-guessing in the back of your mind that if the player that we would've selected there at two pans out. You're going to be thinking about it for a long time certainly."
Nonetheless, Brown cannot doubt the process that led him to this point, especially since Philadelphia was willing to part with more assets than Cleveland had anticipated. Said Brown, "When we really sat down and talked with Philly, understand the batch of picks they were wanting to put together, where we sit as a roster today, this was the right decision for us. We felt like we could still get the No. 1 wide receiver on our board (Corey Coleman), which was coveted by us certainly in the building to support [Griffin], and what we want to do on offense and the running game that will be the engine of what we want to do on [offense]. But we were able to do position ourselves for today to address the roster but also moving forward in the future to have more flexibility."
Photo courtesy of USA Today Sports Images
Follow @PFRumors