THURSDAY: The Dolphins aren't worried about Tunsil's ankle, executive vice president of football operations Mike Tannenbaum told WQAM-560 on Thursday.
"He's full go. He's fine. We never had a concern about his ankle," Tannenbaum said, per Barry Jackson of the Miami Herald.
On drafting Tunsil, Tannenbaum stated, "It was an easy decision. It was unanimous… We had an area scout, Matt Winston, who went into Mississippi more than once. We knew about the kid. We knew about his character. He was a good teammate… I'm really glad he was there when we picked. I think we're going to be happy for a long time."
WEDNESDAY: A potentially chronic ankle injury helped induce Laremy Tunsil's slide down the draft board after previously being slotted as the No. 1 overall projected pick, Jason Cole of Bleacher Report reports (video link).
While some teams — the Ravens, for one — potentially shied away from the Ole Miss product because of the bong video that surfaced jus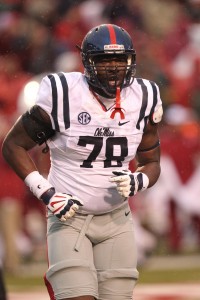 t before the start of the draft, others, Cole reports, may have been concerned about the left tackle talent's ankle troubles that surfaced late during the pre-draft process.
Although no news emerged of Tunsil struggling with the ailment at Dolphins rookie minicamp, multiple sources told Cole the No. 13 overall pick is dealing with a pre-arthritic ankle condition. Two sources also informed the Bleacher Report NFL insider that the condition Tunsil is battling is "worse than Myles Jack's knee."
Tunsil broke his leg and dislocated an ankle during the 2014 Peach Bowl at the end of his sophomore season. He returned an became a second-team All-American as a junior despite playing in just six games due to a suspension, but Wednesday's revelations suggest he may not be fully over that setback.
A slew of grim diagnoses emerged about the Jaguars second-round pick's condition after a knee malady caused the ex-UCLA star to tumble into the second round after previously being slotted in as a potential top-5 pick. Jack missed most of his junior season with the Bruins in 2015 as a result of a torn meniscus that had some concerned before the draft he'd need microfracture surgery down the line. Although Jack dispelled some of those concerns recently, he won't be able to distance himself from those knee concerns until he proves he can stay healthy for the Jaguars.
As for Tunsil, one source disagrees with others' analyses, telling Cole that Tunsil indeed has an ankle issue but one that is not on the level of Jack's knee. So, this could be a topic of Dolphins discussion this offseason, though to what degree is debatable.
Photo courtesy USA Today Sports Images
Follow @PFRumors