Mark Sanchez has had quite the offseason — he's gone from being the presumptive backup with the Eagles to having a real chance at starting for the defending Super Bowl champion Broncos following a March trade. Sanchez sat down with Jason Cole of Bleacher Report to discuss the deal that brought him to Denver, adjusting to life with the Broncos, and more. Let's take a look at the highlights…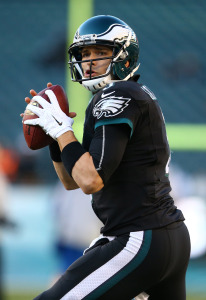 On whether he spoke to the Broncos in advance of the trade:
No, not at all. This happened all while I was working out. My agent hadn't heard yet. [Eagles general manager] Howie Roseman and [Broncos general manager] John Elway were really the only ones who knew until they told me. Nobody really knew. I was maybe the third, fourth or fifth person to know. Once that happened, I called my agents to find out what was happening and they said, "We don't know that."
On the difficulty of taking over a Super Bowl-winning team:
How do you motivate guys who are already there when you haven't [been]? How do you say "Hey, guys. Let's put in all this work because we want to win a Super Bowl" when I'm the only guy who hasn't? So it's like a fine line of how to push guys and be a leader and establish yourself while also respecting what they have done and distance yourself from what they have done.
[RELATED: Broncos GM John Elway discusses quarterback search]
On acting as something of a "game manager":
It's a weird narrative. I understand my role: Just drive the car straight. Stay in the right lane. Stay in your lane and do what you're called to do. There's no behind-the-back, rolling-right kind of things. Just stick with the play. Get us out of bad plays, avoid negative plays, stick with the plays and give ourselves a chance to win.
What do we have to do on offense? Protect the ball, score a few points, and we're good. It's similar to those first few years in New York. Make all the routine plays, and when it's time to make a big play, it will present itself. You practice for it and be ready to do it.
On whether Denver's offense will involve more quarterback movement:
You could say that, but you could also say that about my time in New York because they got me out on the move to do that. [Head coach Gary Kubiak] moved [Matt] Schaub around. They moved Joe Flacco around a little bit. Could I move more? I don't know. Maybe a little bit. It's going to depend on what we do well in these next 10 OTAs.
On how the Broncos' weapons compare to the Jets' when Sanchez was in New York:
I don't want to compare. We had good guys on both teams. I can speak to this team and say that some of the guys are obviously among the best in the league, starting with the top two [wide receivers]. But not just them.
Seeing how these guys work, they compete. It doesn't matter who it is, whether it's Bennie Fowler or whoever. These guys talk to each other…not like I'm coming for your job, but when I was around them, I could tell they were into it. They feed off each other. Kind of like, "Hey, you ran that route that way? Watch what I do. Watch how I catch this. Watch how I run this."
Photo courtesy of USA Today Sports Images.
Follow @PFRumors