MAY 10, 8:12am: Ben Volin of the Boston Globe has the details on Amendola's new-look contract for 2016, which calls for a pay cut from a $5MM base salary to a far more modest $1.25MM salary. Amendola previously could have maxed out at $6MM in 2016 with bonuses and incentives, but now won't make more than $1.6MM this season. The deal features a $100K signing bonus and up to $250K in per-game roster bonuses for 2016, while the 2017 terms remain unchanged.
MAY 6, 9:57am: Despite some offseason additions at the wide receiver position, the Patriots won't be parting ways with veteran wideout Danny Amendola, according to Mike Garafolo of FOX Sports, who reports (via Twitter) that the two sides have agreed to a reworked contract that will allow Amendola to remain on the roster. It's a two-year, $7.35MM deal for Amendola, with another $750K available in roster bonuses and catch incentives, per Garafolo.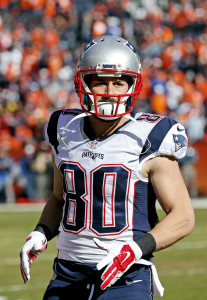 "It's an honor to play for this franchise and with this group of guys," Amendola said in a statement, according to Garafolo. "We have one goal — to win another Championship and that's all we care about."
Amendola, who has spent the last three years in New England, enjoyed his best season as a Patriot in 2015, catching 65 balls for 648 yards and three touchdowns in 14 regular season contests. The Texas Tech product added another 57 yards on seven receptions in the postseason.
Despite his solid year though, Amendola was in jeopardy of losing his roster spot due to his rising salary and the incoming additions to the Patriots' WR depth chart. Within the last two months, the club has added Chris Hogan and Nate Washington in free agency, and used a fourth-round pick on Malcolm Mitchell. The Pats also have Julian Edelman in the mix, and will use tight ends Rob Gronkowski and Martellus Bennett frequently in the passing game.
Before agreeing to a restructured contract, Amendola had been set to earn base salaries of $5MM in 2016 and $6MM in 2017, with per-game roster bonuses of up to $500K annually. Those salaries and bonuses were entirely non-guaranteed, so while Amendola's projected pay for 2016 has decreased, he'll actually get the opportunity to earn that pay now.
As for his cap hit, we'll have to wait to see how the new agreement is structured, but the 30-year-old had been set to count for $6.804MM on the Patriots' books in 2016. That number will now be reduced.
Photo courtesy of USA Today Sports Images.
Follow @PFRumors