9:24am: While the Eagles' offseason activities aren't currently open to the media, Bradford issued a statement today upon returning, per Adam Schefter of ESPN.com:
"I'm excited to be back on the field today with my teammates and coaches. The business-side of football is sometimes a necessary consideration. My attention and efforts are focused on the participation in and preparation for a championship season: I am committed to my teammates and the Eagles organization for nothing less."
8:41am: Appearing on Sports Radio 94WIP in Philadelphia today, Eagles defensive end Connor Barwin said that quarterback Sam Bradford would be reporting to the Eagles' offseason activities today (Twitter link via Howard Eskin). And it seems Barwin was right — Bradford has indeed reported to the club and is in the building this morning, a source tells Jeremy Fowler of ESPN.com.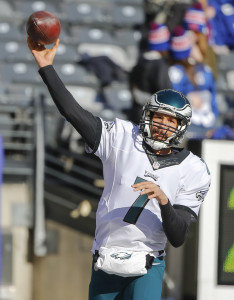 According to Tom Condon – Bradford's agent, who spoke to Sal Paolantonio of ESPN – the signal-caller has rescinded his trade request in addition to rejoining the team (link via Michael David Smith of Pro Football Talk). Condon reportedly said during an appearance on Mike & Mike today that Bradford's camp thought a trade to Denver was a viable possibility until the Broncos drafted Paxton Lynch in the first round.
As Ian Rapoport of NFL.com tweets, the Eagles are in the second phase of their offseason conditioning — Bradford missed just two of 10 weeks. The team's offense will take the field for workouts today, and the former No. 1 overall pick will join the unit.
While Bradford may still be unhappy about his situation in Philadelphia, the Eagles had been insistent that they didn't want to trade him, and public sentiment wasn't exactly in favor of the player who just received an $11MM signing bonus from the team two months ago. Bradford continues to be on track to open the 2016 season as the Eagles' starter. With rookie Carson Wentz looming, it remains to be seen how long Bradford will keep that job, and how long he'll stick in Philadelphia.
Bradford's new two-year deal calls for most of its guarantees to be paid in 2016, so the Eagles could move on from him in 2017 if they deem him expendable – and Wentz ready – a year from now.
Photo courtesy of USA Today Sports Images.
Follow @PFRumors