Lukewarm about Washington trading so much to acquire Robert Griffin III in the first place, Mike Shanahan became further divided against the team's then-franchise quarterback and Daniel Snyder, whom he felt was partially responsible for pulling the strings for Griffin, after a February 2013 meeting.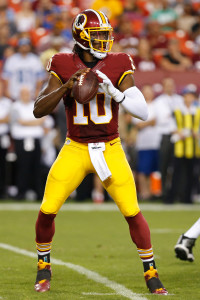 The current Browns projected starter, Griffin addressed Mike Shanahan, then-OC Kyle Shanahan and then-QBs coach Matt LaFleur to discuss things he wanted to change about the offense, according to an expansive report from TheUndefeated.com's Jason Reid. Then coming off a torn ACL sustained during Washington's playoff defeat against the Seahawks, Griffin said 19 of Washington's plays were unacceptable to run, primarily identifying several from the zone-read-based package that helped the former Baylor spread passer to the 2012 offensive rookie of the year award, and expected them to be removed from the playbook, Reid writes. RG3 concluded the meeting, which featured video examples of his points, by identifying himself as a dropback passer rather than a running quarterback.
Griffin using the word "unacceptable" pointed Mike Shanahan to connect the dots to this mandate having a Snyder touch, in his opinion, with Washington's owner using that word often.
"I said to Dan, 'Do you realize what you're doing to this kid?'" Shanahan told Reid of a coach-owner summit that occurred immediately after Griffin's address. "He was using phrases Dan used all the time. There's only one way a guy who's going into his second year would do something like this: If he sat down with the owner and the owner believed that this is the way he should be used. He had to have the full support of the
owner and, in my opinion, the general manager to even have a conversation like that. … We tried to get him to slide. We tried to get him to throw the ball away. If he had told me he was hurt, I would have taken him out of the [playoff] game. To hear him … it was really incredible."
Ironically, Shanahan changed Washington's offense to fit Griffin's speed and lack of polish as a dropback passer. Griffin, though, hasn't been the same since that rookie slate when he threw for 20 touchdown passes and rushed for 815 yards while throwing for 3,200. In 13 games in 2013, RG3 threw for 3,203 but rushed for just 489 as Washington went 3-10 during his starts before giving way to the now-franchise-tagged
Kirk Cousins to close out that season.
"When I finally sat down with Dan, I said, 'Hey, you own the team. We can work with him and do some things. But we haven't seen anything on tape that warrants giving [up] this type of compensation.' To me, it was absolutely crazy," Shanahan told Reid about his stance at the time on Griffin, for whom Washington traded its first-round pick in 2012, along with its 2013 and '14 first-rounders. "But I told Dan that if that's what he wanted to do, I'd make it work."
Responding to his former coach's comments, the recently signed Browns passer did not offer a rebuttal, according to the team website.
"I'm so far removed from Washington now and focused on this opportunity here in Cleveland that I don't even worry about those things anymore," Griffin said. "I can only focus on what I can control and that's here in Cleveland … I didn't even see that story."
Photo courtesy USA Today Sports Images
Follow @PFRumors