Despite having requested a trade out of San Francisco in February, 49ers quarterback Colin Kaepernick will go forward with the team this year after its front office, led by GM Trent Baalke, wasn't able to move him. Kaepernick, who is looking to bounce back from a subpar season that ended early thanks to a torn left labrum, will now attempt to beat out fellow veteran Blaine Gabbert for the 49ers' starting QB job this summer. The 28-year-old spoke to reporters Thursday about several important topics, including whether he and Baalke have talked to each other this offseason (they haven't). Here, courtesy of the Bay Area News Group's Cam Inman, is a rundown of interesting quotes:
On new head coach Chip Kelly, the team's offense, and the support Kaepernick has gotten from teammates and fans: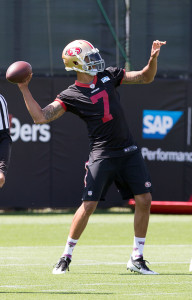 "I'm excited to be here with Chip (Kelly) and these coaches. The offense has been amazing. My teammates have been great with their support. I'm excited to be back on the field with them. It was a great feeling out there this week (at minicamp). The fan support I've gotten through everything, especially seeing people out, it's amazing and really made me excited to be out here and play."
On why he asked for a trade:
"Organizations at the end of the season evaluate personnel and opportunities "That was something I sat down with my team (of agents and support staff) and did the same thing. That's how we handled the business.
"We were looking at different opportunities. I really don't want to get into specifics about what happened or why things happened. At this point everything is football and I'm a 49er. Again, I'm excited to work with Chip and this coaching staff."
On the 49ers' depth chart under center:
"They haven't said anything about a pecking order or anything like that. All I've heard is Chip has told me it's going to be a competition. That's going to be my mindset and I'm excited to do that."
On his health:
"At this point I'm close to being 100 percent healthy, close to where I can start training again and really looking forward to the progress I can make this summer in being ready for training camp."
"I have a lot of work ahead of me. I'm in a situation I'm a little bit behind, because I've been rehabbing and trying to get back to 100 percent where I can start training. At this point there is a lot of work to be done."
Photo courtesy of USA Today Sports Images.
Follow @PFRumors