SUNDAY, 5:28pm: When asked about the report Kaepernick's representatives are seeking to move the quarterback out of San Francisco, 49ers owner Jed York told the San Jose Mercury News' Mark Purdy, "I haven't talked to his people, and I try to stay away from what the agents say. I know what our feeling is. We want Kap to be healthy. And we'd like to see Kap here. … And I think when you look at what Chip's offensive philosophy is, I think Kap is a very good fit for that. I think Chip has said that. We expect Kap to be here."
Mike Florio of Pro Football talk interprets York's insistence on keeping Kaepernick as a way to drive up the sixth-year quarterback's market. York also acknowledges in the tampering bonanza that is the Combine, agents don't exactly need permission to engage in talks with other teams.
"I've been around the NFL long enough to know that you don't need to grant agents permission to make phone calls," York told Purdy. "So, again, we're not actively doing anything. I can't stop somebody from reaching out. But our opinion is, we'd like Kap to be here."
SATURDAY, 6:00pm: Kaepernick's money isn't guaranteed until April 1, but the 49ers are willing to move that date up if he commits to staying with the club, tweets Rapoport.

5:05pm: The 49ers hope to keep Kaepernick, who hasn't yet received permission to seek a trade, according to Rapoport (Twitter link). If the 49ers do allow Kaepernick to look for a deal, Rapoport expects the Texans and Browns to have interest in acquiring him.

THURSDAY, 7:08pm: It would be a "major upset" if Kaepernick remained a 49er, tweets CBS Sports' Jason La Canfora.
6:30pm: If Kaepernick wants to seek a trade and keep his guaranteed money, he'll need written permission from the 49ers, something he doesn't have yet, according to Ian Rapoport of NFL.com (Twitter link). Further, Kelly wants Kaepernick to compete for the 49ers' starting job, per Rapoport, who adds (on Twitter) that there won't be a quick resolution to this situation.

In the event Kaepernick is dealt, Matt Barrows of the Sacramento Bee expects him to end up with an AFC team. The Broncos, Browns, Jets and Texans are possible suitors, according to Barrows (Twitter link).
5:21pm: The agents for quarterback Colin Kaepernick have requested permission from the 49ers to seek a trade, according to Rand Getlin of the NFL Network (Twitter link).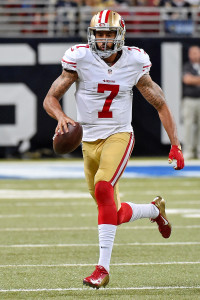 [RELATED: 49ers to meet with Kaepernick's reps at combine]
Getlin's report is almost comically timed, coming on the heels of general manager Trent Baalke insisting that Kaepernick will remain on the Niners' roster through his salary guarantee deadline (April 1st) and head coach Chip Kelly saying today that he fully believes the quarterback wants to stay in San Francisco. Assuming Getlin's report is accurate, it looks like the 49ers' decision-makers may have been trying to sell a different narrative this week at the combine, perhaps in order to maintain leverage and pump up Kaepernick's stock.
Tim Kawakami of San Jose Mercury News wrote on Tuesday that Kaepernick "understandably remains generally distrustful of team management's motivations," following a year in which he was benched and was the subject of unflattering leaks to media. The 28-year-old started eight games for the Niners in 2015, completing just 59.0% of his passes and throwing only six touchdowns to five interceptions. Blaine Gabbert took over as San Francisco's starter in the second half while Kaepernick dealt with multiple injury issues.
While some observers believe that Kelly's offensive system would be ideal for Kaepernick as he aims to bounce back in 2016, it seems as if the quarterback may prefer to get a fresh start elsewhere. If that's the case, April 1st will be a key deadline — if the quarterback remains on the team's roster beyond that day, his $11.9MM salary for 2016 will become fully guaranteed.
Of course, assuming the team grants Kaepernick's representatives permission to explore a trade, any deal might have to take place sooner rather than later. Quarterback-needy teams likely won't want to wait long after the new league year begins on March 9th to address the position, unless they intend to select a QB in the draft.
Photo courtesy of USA Today Sports Images.
Follow @PFRumors