10:06am: It sounds as though Suisham is retiring following his release today. In a statement to Mark Kaboly of the Pittsburgh Tribune-Review (Twitter link), Suisham reflected on his career and discussed life after football:
"Unfortunately, the injury I sustained in the Pro Football Hall of Fame Game last preseason was catastrophic and has proven to be critical to continuing my career. My journey in the NFL has come to a crossroads. I was raised in Wallaceburg, Ontario, as a hockey player and have been on an improbable 16-year journey as a kicker, competing at the highest level. The absolute nature of my position has given me the opportunity to test my resolve, and I have grown both professionally and as a man. Undoubtedly, I will miss the challenge of game day and the preparation that is required. Change is hard, but I'm comfortable with where I am in life as a husband and father."
9:20am: The Steelers announced that they have released kicker Shaun Suisham with a failed physical designation. According to the team's announcement, Suisham suffered a setback in his recovery from an ACL tear.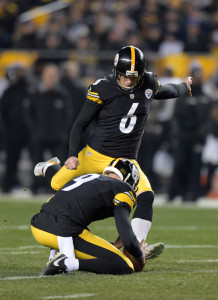 "Unfortunately Shaun incurred a setback in his recovery from knee surgery that won't allow him to compete in a timely manner," Steelers General Manager Kevin Colbert said in a statement. "Shaun has played a significant role in our success during his time in Pittsburgh. He has been the consummate professional on the field and in our community. We wish he and his family all the best in the future."
Suisham recently admitted that he wasn't sure if he would be ready for training camp at the end of July.
"Any sort of a battle is not an issue with me right now because I am not healthy," Suisham said. "I will continue to work to get there, but I don't know when that will be. I don't have a time frame. Hopefully, it is for training camp."
Suisham signed a four-year, $12.5MM extension in 2014, making him one of the top 10 highest-paid kickers in the NFL. Now, by releasing him, the Steelers will save $2.4MM against the cap. Chris Boswell, who appears to have won the kicker battle that never really got underway, makes the NFL minimum $525K.
Suisham spent the 2015 season on IR and Boswell sank 29 of 32 field goal tries while he was sidelined. Even though Boswell did enough in the eyes of many to win the kicking job for 2016, the Steelers still wanted to give Suisham every opportunity to try and claim the role for the coming year. Unfortunately, the 34-year-old was not able to heal up in time.
Over the course of his ten-year career (excluding his lost 2015 campaign), Suisham has suited up for the Cowboys, Redskins, and Steelers. In his last five years with Pittsburgh, Suisham has nailed 84.1% of his field goal attempts and 99.3% of his extra point tries.
Photo courtesy of USA Today Sports Images.

Follow @PFRumors