Along with owner Mike Brown and head coach Marvin Lewis, director of player personnel Duke Tobin is part of the triumvirate that has reinvigorated the Bengals in recent seasons, turning the organization into an annual contender that has made five straight postseason appearances. Tobin's behind-the-scenes work hasn't gone unnoticed, as both the Titans and Lions requested interviews this offseason as they sought to fill their respective general manager vacancies. But Tobin is still in Cincinnati, and he recently spoke with Geoff Hobson of Bengals.com about the club's roster, potential free agent additions, and his own future.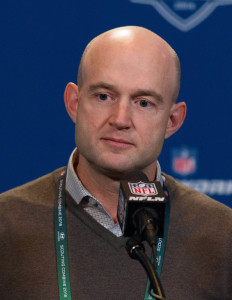 [RELATED: Reviewing the 2016 Cincinnati Bengals offseason]
On whether the Bengals could add a veteran free agent:
We have the ability right now. We have a spot open so we've talked about some things. We feel good about the roster as it is. If there's an opportunity to add another piece at the right position at the right price, we'll think about doing it. From our standpoint in personnel, the roster is never set. We're always open to improvements if we can find them. Who knows what will happen, but it's a pretty quiet time around the Bengals facility right now.
On whether Cincinnati has considered free agent receiver Anquan Boldin:
I don't like to proclaim yes or no on anybody that's out there, but we have not had any discussions with him. We feel pretty good about some young guys that we have in that position group. It's a position group that's in flux, and it's a position group that's going to have to step up – particularly with [Tyler] Eifert out early in the year. We're going to have to have some production from there and we have some good candidates. So we want to see when we get going in the preseason who steps up and who raises their hand and says, 'I'm the guy.' Hopefully multiple people will do that.
On how the club weighs signing a free agent:
I think you always weight the ramifications of adding a guy. Anybody that we bring in at this time of the year is going to have to make his way. We're not going to be signing anybody – I don't care if it's an eight-time Pro Bowler or a college free agent – there's no guarantee for anybody you bring in at this point. Whoever we sign if we sign somebody will have to prove their value and will have to make the club. And they're going to have to be better than who we already have on the club. At the end of the day we'll make some tough cuts – we always have – and this year won't be different. But we're going to keep the 53 best players for sure.
On what the Bengals saw in free agent pickup Brandon LaFell;
We wanted some experience and he's got that. We liked his size. We liked that he's played in a number of different systems. And I don't think that the game is too big for him. Any time that you change teams there's a transition and he's going through that right now. He's like anybody else on our team – he's going to have to prove his worth and make his way and we hope that's the case. But we felt like we needed to add another veteran presence there after losing Marvin Jones and Mohamed Sanu and hopefully he'll fill that and be the guy that we think he is.
On his future in the Bengals' front office:
When I came here in '99 – and this is another thing that my dad (ed. note: former Bears/Colts GM Bill Tobin) did for us when we were in Chicago – I fully committed to the Bengals and wanted to be here long term. I wanted to make myself valuable to the club and make an entire career out of this and they gave me an opportunity to show that. There are very few organizations like the Cincinnati Bengals and people like the Browns and Blackburns to work for and it's just a really neat situation and I'm thankful for the opportunity that I have here. I really can't imagine wanting to be somewhere else and wanting to work for another team. Sure the challenges would be fun, but we have challenges here to work through that keep me occupied. I'm very happy to stay and be a part of it.
Follow @PFRumors