The Bengals have a tried and true offseason approach that's enabled them to reach the postseason for five consecutive seasons — winning a game once they've made the playoffs has been a different story, however. Still, the club followed their template: re-sign their own free agents, extend young players that they believe are a part of their core, and bring in a few veterans who won't affect the compensatory formula. Let's take a look at how Cincinnati executed that strategy over the offseason…
Notable signings:
While the Bengals weren't able to retain either one of their key free agent receivers, they did re-sign the two most important members of their secondary, agreeing to new deals with cornerback Adam Jones and safety George Iloka. Jones received the seventh-highest full guarantee among all free agent corners, an unusual accomplishment for a player entering his age-33 season. But Jones doesn't have wear-and-tear of a typical veteran — in fact, Jones has the started the fewest career games among 2005 draftees who can still be considered starters at this point in their careers, and it isn't particularly close. For example, Jones has only 77 starts under his belt, while Antrel Rolle, the other defensive back selected in the top eight of the '05 draft, boasts a whopping 146. Jones, for all intents and purposes, only has about half the tread on his tires of a typical starter with a decade in the NFL, making this deal less onerous that it looks at first glance.
Iloka, meanwhile, can be considered a victory of Cincinnati's "draft, develop, and retain" model — a former fifth-round pick, Iloka blossomed into a full-time starter during his second year in the league, and graded out as the NFL's No. 15 safety during his platform season, according to Pro Football Focus.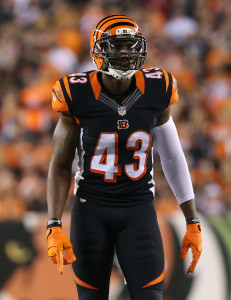 Still, he didn't fully cash out during the free agent process, garnering only $5MM in guaranteed money. Rodney McLeod, a comparable player who is the same age as Iloka, got more than double that figure from the Eagles, while Tyvon Branch, a middle-of-the-road veteran nearing age-30, equaled Iloka's guarantees (and only on a two-year deal!). Iloka is incredibly likely to play out his entire contract — most Bengals do — but even then, he doesn't rank inside the top-10 in average annual value among safeties, and he'll continue to be pushed further down that list as the cap increases and salaries rise.
The Bengals did venture away from their internal free agents to bring in a couple of outside additions, but they were sure to only sign players who had been released by their former clubs, ensuring that they wouldn't sacrifice any precious compensatory selections (Cincinnati is projected to snag four comp picks, the maximum allowed under the system). Wide receiver Brandon LaFell will line up opposite A.J. Green on the outside, and the Bengals are hoping that the former Patriot can come closer to his 2014 numbers — when he caught 74 passes for nearly 1,000 yards and seven touchdowns — than his 2015 production (37 receptions for 515 yards and zero scores). LaFell, 29, should see a good deal of single coverage as defenses shift their focus towards Green, so he's a decent candidate for a rebound season.
Linebacker Karlos Dansby, another external addition, was signed to supplement Cincinnati's front seven — on the surface, he's replacing fellow veteran A.J. Hawk, but Dansby will be counted on to play a much larger role than Hawk, who saw action on just over a quarter of the Bengals' defensive snaps last season. Not only will Dansby help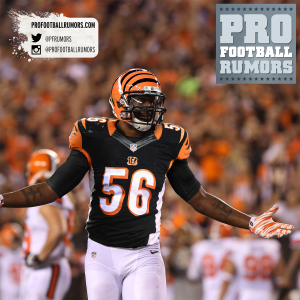 account for the absence of Vontaze Burfict, who is suspended for the first three games of the year, but he'll stay on the field in sub packages. A starting caliber, three-down linebacker for just $2MM is a solid deal, and Dansby figures to make a sizable contribution to a Cincinnati defense that will seek to match — or better — its 2015 No. 10 DVOA rating.
Elsewhere in the linebacking corps, the Bengals also re-signed Vincent Rey, a former undrafted free agent who's made his NFL name as something of a jack-of-all-trades 'backer. Need a direct replacement for Burfict while he's suspended? Vincent Rey. Who will stay on the field in nickel packages alongside Dansby? Vincent Rey. Special teams unit needs an extra body? Vincent Rey. Rey played the most defensive snaps of any Cincinnati linebacker in 2015, and given that Dansby is aging, Burfict will miss almost 20% of the season, and Rey Maualuga is a two-down run-stuffer, Rey could end up leading the Bengals LBs in playing time once again.
Pat Sims appeared in only eight games in 2015, but the Bengals apparently saw enough during his second tenure with the club that they re-signed him to a two-year deal (though it's essentially a one-year deal with an option for 2017). The 30-year-old Sims will compete with fourth-round rookie Andrew Billings for playing time as a rotational lineman behind starter Domata Peko. Fellow defensive tackle Brandon Thompson tore his ACL in January, but he still generated interest from the Seahawks before inking a new deal with Cincinnati. The PUP list is clearly an option for Thompson as he recovers, but he could be late-season contributor.
Brandon Tate, Eric Winston, and Taylor Mays are all veterans with experience in the Bengals' system, and none figure to have large responsibilities next season if all goes as planned. Tate's lack of dynamic ability as a return man has frustrated Cincinnati fans for years, but he'll continue to act in that capacity until the club finds someone who's as reliable. Winston will compete to serve as the second swing tackle behind Jake Fisher, while Mays, in his second Bengals tour, will handle special teams duties and play the occasional dime linebacker role. If any player from this trio plays significant snaps in 2016, something went terribly wrong.
Continue reading about the Bengals' offseason…
Notable losses:
With all due respect to Reggie Nelson — who had the best 2015 season of any Bengals free agent — the most important offseason decisions for Cincinnati management involved their two wide receivers who were entering the open market. Mohamed Sanu never seemed incredibly likely to re-sign with the Bengals, as he was a prime candidate to be overpaid during the free agent period. Entering his age-27 season, Sanu was never a key feature of the Cincinnati offense, and he struggled when he was forced to act as the club's de facto No. 1 receiver in 2014 following injuries to A.J. Green and Marvin Jones, falling victim to drops. The Falcons handed Sanu $6.5MM annually and $14MM in full guarantees, figures that the Bengals had no intention of matching.
Jones, on the other hand, had proven himself as a top-tier No. 2 option in the Bengals' offense, and the team had every intention of retaining him. Reports indicated that Cincinnati matched not only the $8MM annual salary offered by Detroit, but the $40MM total value of the contract Jones ultimately signed with the Lions. Whether the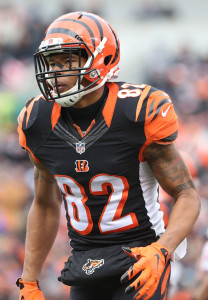 guarantees and structure were similar is unclear (Jones will earn $27MM from 2016-18 with Detroit), but Jones apparently wanted to forge his own way and join a club where he could act as the No. 1 option in the passing game. That was never going to happen with the Bengals given the presence of Green, so if playing a more significant role was atop Jones' free agent wishlist, there wasn't much Cincinnati could do.
Back to Nelson, who not only led the league with eight interceptions, but graded as the ninth-best safety in the NFL, according to PFF. But the Bengals, who had Shawn Williams waiting in the wings, were only going to re-sign one of their two free agent safeties, and Nelson is more than six years older than George Iloka. It's essentially that simple, and although Cincinnati did reportedly offer Nelson a deal to return, the numbers were likely so low that Nelson had no choice but to decline, instead joining the Raiders on a two-year deal that pays $4.25MM annually.
Fellow veteran defensive back Leon Hall hasn't officially left the Bengals, as he remains on the free agent market for the time being. He's garnered quite a bit of interest,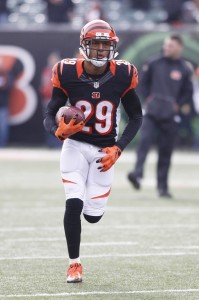 meeting with the Falcons, Cardinals, and Cowboys, among others, but clubs could be scared off by the fact that Hall underwent back surgery over the offseason. Hall is expected to sign this week, and surprisingly Cincinnati apparently remains an option. I'd have to think that the Bengals won't offer Hall much over the minimum, but bringing him back to man the slot wouldn't be the worst idea.
Tackle Andre Smith was once the sixth overall pick in the 2009 draft, and while he's never lived up to that billing, he's been a serviceable right tackle for the duration of his career. He's reached free agency twice, but he returned to the Bengals both times after not finding much demand for his services on the open market. This time around, however, a return to Cincinnati wasn't in the cards, given that the Bengals spent their first two picks in the 2015 draft on offensive tackles. Smith will instead head to Minnesota, reuniting with former Bengals defensive coordinator Mike Zimmer.
Like Smith, linebacker Emmanuel Lamur will head north to play for the Vikings, as there simply wasn't clear-cut role for him on the Bengals following the addition of Karlos Dansby and the re-signing of Vincent Rey. Rotational defensive end Wallace Gilberry also defected to the NFC North, joining the Lions on a one-year pact — the Bengals didn't put up much of a fight, as they have younger options who need snaps in order to develop. Veteran linebacker A.J. Hawk, meanwhile, was cut, and his career could be nearing its end. The 32-year-old doesn't offer special teams value, and with his defensive ability dwindling, he might struggle to find another NFL home.
Draft picks:
For the third time in five years, the Bengals spent a first-round pick on a cornerback, selecting Houston's William Jackson III, who many observers ranked as the No. 2 defensive back available. Cincinnati loves a first-round pedigree when it comes to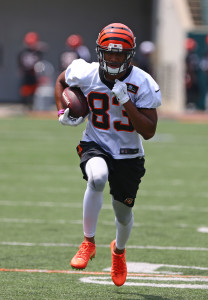 secondary players, and in a passing league, there's nothing wrong with continually investing in corners who will play on cheap contracts. Jackson will be buried on the depth chart during his rookie season, but he'll play on special teams and be ready to play in the event of injuries.
Tyler Boyd, on the other hand, will be expected to start right away — a pure slot receiver, Boyd will be counted to help offset the loss of Marvin Jones and Mohamed Sanu. He'll be the fourth option in passing game (and perhaps fifth if you count running back Giovani Bernard), but Boyd should flirt with 45 receptions during his rookie year.
Andrew Billings and Christian Westerman were tremendous values on Day 3 of the draft, and both could see relatively large roles in 2016. Billings, considered a first-round talent by some evaluators, will instantly be a contender for rotational duties along the interior of the defensive line, and should be the long-term replacement for Domata Peko at nose tackle. Westerman has a very outside chance to emerge as Cincinnati's starting center at some point during the upcoming season, but at the least, he'll serve as the top interior offensive line reserve.
Extensions and Restructures:
Giovani Bernard is the type of running back (smallish, excels in the passing game), who doesn't get paid on the open market, as Bill Barnwell detailed in a 2014 Grantland article, so it makes sense that he accepted an extension now rather than try to cash out in free agency next offseason. The new deal places Bernard inside the top-10 in terms of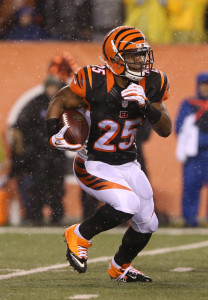 running back annual value, and it's hard to argue that he's not worth it. He's averaged roughly 700 yards rushing and 450 yards receiving during each of his first three years in the NFL, and he's been the sixth-most valuable member of the entire 2013 draft class, according Pro Football Reference's approximate value metric.
The fact that Shawn Williams signed an extension now, however, is a little more surprising, given that he could have hit the free agent market next season with a good shot at a sizable contract. As Bryce Johnston of Over the Cap writes in his excellent analysis of the deal, Williams is sacrificing quite a bit of upside for minimal guarantees. He's exceptionally likely to play out the deal and reach free agency again at age 29, but Williams, who will start for the first time in 2016, could have eyed a contract in the $6-7MM range had he performed well during the upcoming season. Instead, it's another win for the Bengals front office.
 Other:
The biggest loss of the Bengals' offseason wasn't a free agent, it was a coach — Hue Jackson helped transform the Cincinnati offense into one of the best units in the league, and Andy Dalton's 2015 turnaround clearly wouldn't have been possible with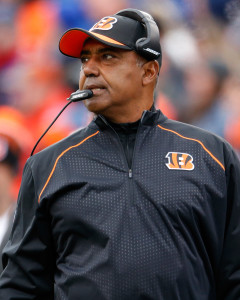 the assistance of Jackson. Continuity is key om the Bengals' coaching staff, and former quarterbacks coach Ken Zampese will employ many of the same concepts as he takes the reigns of the offense. Still, given that Jackson is considered one of the more innovative offensive minds in the NFL, some regression is inevitable.
Head coach Marvin Lewis has taken on so many personnel responsibilities that he can essentially be considered the club's de facto general manager. He's infamously failed to win a playoff game during his Bengals tenure, but his record of perpetual regular season success, especially during the past five seasons, can't be disputed. At this point, I'd imagine that Lewis will be allowed to leave on his own terms. Rolling one-year extensions for as long as he wants to continue to lead the club seem likely, assuming Cincinnati doesn't completely bottom out in the next few years.
Vontaze Burfict will miss three games after being suspended for safety violations — his abrasive play came to a head in the Bengals' playoff game, when a personal foul call on the veteran linebacker helped lead to Cincinnati's collapse. Tight end Tyler Eifert's situation, meanwhile, is more volatile, as reports have indicated that he could miss the first few games of the season after undergoing ankle surgery in May.
Top 10 cap hits for 2016:
Tossing the playoff losses aside for a moment, many clubs would like be in the Bengals' position. Smart cap management, the ability to find value in the draft, a solid developmental strategy, a multi-branched coaching tree, and a sustained record of regular season success are all areas that Cincinnati has mastered over the past half-decade. But until the Bengals win a least one postseason game, none of it will matter much.
Information from Over the Cap, Spotrac, and Roster Resource was used in the creation of this post. Photos courtesy of USA Today Sports Images.
Follow @PFRumors