Last week, Browns running back Isaiah Crowell made headlines when he made an Instagram post depicting a police officer being stabbed in the neck by a person in a black hood. Since then, Crowell has apologized for publishing the picture on social media. While the Browns are troubled by Crowell's actions, they have no plans to release him, according to Mary Kay Cabot of The Plain Dealer.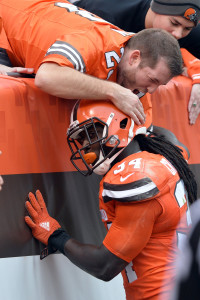 [RELATED: Browns Eliminated Johnny Manziel's Guarantees]
"We have spoken to Isaiah regarding his extremely disturbing and unacceptable social media decision," the Browns said in the statement. "It was completely inappropriate and we have made him aware of our high level of disappointment. Isaiah has apologized but also knows that just an apology is insufficient and that he must take steps to make a positive difference after a very negative and impactful post."
The Browns do not intend on releasing the 23-year-old, but there could still be discipline on the way from the team. However, the team first wants to give Crowell a chance to redeem himself before potentially taking action, Cabot writes. Meanwhile, the NFL seems satisfied with Crowell's apology.
"The image was inappropriate and insensitive," NFL spokesman Brian McCarthy said via email. "He realized this, took down the post and has since apologized."
The Alabama St. product appeared in every Browns regular season game in both 2014 and 2015 with 13 total starts. As a rookie, Crowell made his mark by notching 8 touchdowns and running for 607 yards off of 148 carries, good for a 4.1 yards per carry average. In 2015, Crowell averaged 3.8 yards per carry with four rushing touchdowns.
Photo courtesy of USA Today Sports Images.
Follow @PFRumors