The Joey Bosa stalemate continues to drag on, and even though Bosa is now one of only three draft picks (all first-rounders represented by CAA) who is still unsigned, Chargers general manager Tom Telesco isn't sure if a deal can be hammered out this week before training camp begins on Saturday.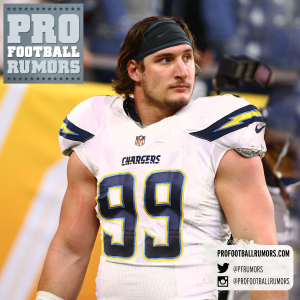 [RELATED: Offseason in Review — San Diego Chargers]
"I don't know," Telesco told 1090 AM when asked if Bosa would attend the start of camp, according to Eric D. Williams of ESPN.com. "I guess we'll see. I really don't know if he'll [show up]. We're still working on it. Hopefully we'll get something done, but I don't know.
"We've never really had an issue signing draft picks since I've been here," Telesco continued. "We've actually been one of the quicker teams in getting guys done. Especially when it's not really over money — or guaranteed money — I know people get puzzled by it. But it really just comes down to generally this — there's some things that are negotiable, and money always is negotiable, obviously — but there's certain things in contracts language-wise, whether you're picked third, 33rd or 203rd, there's certain things of consistency and doing things the same way for everyone on the team."
As Telesco alludes to, Bosa and his camp are not only arguing to not include offset language in his rookie contract, but also to change the payout structure of his fully guaranteed signing bonus. San Diego typically also uses offset clauses in its rookie deals, and as Williams adds, the club also likes to spread out the payment of bonuses to its first-year players.
With no offset language, the Chargers would pay Bosa the balance of his four-year guaranteed contract even if they release him midway through the deal. Then, theoretically, Bosa could collect two salaries upon signing elsewhere. With offset language in place, the Chargers would be off the hook for Bosa's salary with his new team, paying him only the difference. The Bolts see offset language as the biggest barrier to a deal, but Bosa's agent apparently has other qualms outside of that.
Photo courtesy of Pro Football Rumors on Instagram.
Follow @PFRumors