As its investigation into performance-enhancing drug allegations stemming from a 2015 Al Jazeera America documentary continues, the NFL has received written statements from accused linebackers Julius Peppers Clay Matthews III, James Harrison and Mike Neal, according to Adam Schefter of ESPN.com. While the NFLPA regards those sworn affidavits as reasonable cooperation from the players, the league disagrees and is still requiring the individuals to partake in in-person interviews at training camp.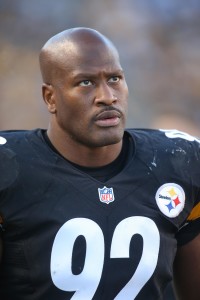 The league informed the union that it first plans to interview Neal, who spent 2010-15 with the Packers but is currently a free agent. He attributes his unemployment, at least in part, to the documentary that links him, Peppers and Harrison to hormone supplement Delta-2, which is designed to stay ahead of drug tests.
Training camp opens for the Packers on July 26, which is the earliest the league can interview Peppers and Matthews – whom ex-Guyer Institute pharmacists Charlie Sly and Chad Robertson connect to the painkiller Toradol in the documentary. The soonest the league can talk to Harrison is July 29, when the Steelers start camp, though the 38-year-old isn't pleased with the notion of participating in an interview and denies ever having met or communicated with Sly. In defense of Harrison and the other besieged players, the union wrote in a letter to the NFL last month that the league lacks ''sufficient credible evidence' to initiate an investigation of, and require an interview with, an employee."
Nevertheless, despite the union's objections, the league will go through with the interviews. There's no word yet on if it will talk to retired quarterback Peyton Manning, the most famous player mentioned in the documentary. Given that Manning's playing career is over, the league can't force him to cooperate. However, if his desire is to eventually land a job as a front office executive, he'll have to.
Photo courtesy of USA Today Sports Images.
Follow @PFRumors