Seahawks defensive end Michael Bennett has been seeking a new contract for some time now and the events of this offseason have only underscored exactly how underpaid he is. In recent months, Olivier Vernon, Fletcher Cox, Muhammad Wilkerson, and Von Miller have all signed monster contracts while Bennett is entering the third season of a four-year, $28.5MM deal.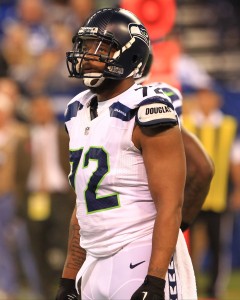 "I just want to be fairly compensated with the top guys in the league," the 30-year-old told Jordan Schultz of The Huffington Post. "I'm definitely one of the top five defensive ends."
According to Over The Cap, Bennett ranks 10th in average annual salary amongst 4-3 defensive ends. In terms of annual salary for all defensive linemen, Bennett is No. 27 in the NFL, according to Schultz. Any way you slice it, the numbers don't quite add up as Bennett was ranked the fifth-best edge defender in the NFL last season by Pro Football Focus (sub. req'd).
Bennett threatened to hold out last summer, but that didn't compel Seattle to redo any part of his contract. However, Bennett has switched agents and is now represented by Doug Hendrickson of Relativity Sports. Hendrickson also represented former Seahawks running back Marshawn Lynch and he was successful in getting that deal reworked.
If Bennett were to hold out from camp this year, he would face fines of $40K per missed day.
Photo courtesy of USA Today Sports Images.
Follow @PFRumors