After a seven-month investigation, the NFL determined that Peyton Manning did not use HGH nor any other performance enhancing drug. Manning, of course, was named in a documentary about PEDs by Al Jazeera America late last year. The NFL released the following statement on Monday morning: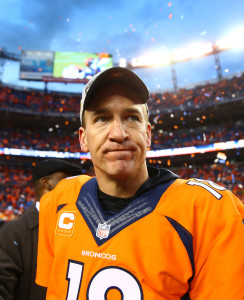 "Following a comprehensive seven-month investigation into allegations made in a documentary by Al Jazeera America, the NFL found no credible evidence that Peyton Manning was provided with or used HGH or other substances prohibited by the league's policy on performance-enhancing substances, it was announced today. The Mannings were fully cooperative with the investigation and provided both interviews and access to all records sought by the investigators.
Initiated in January, the investigation was led by the NFL's security and legal teams with support from expert consultants and other professionals. The investigation involved witness interviews, a review of relevant records and other materials, online research, and laboratory analysis and review.
Separately, the NFL's investigation continues into the documentary's allegations made against other NFL players, which involve different lines of inquiry and witnesses"
Shortly after the documentary aired in December 2015, Manning went on the offensive and pronounced to the world that he would sue Al Jazeera for defamation. Months later, however, Manning backtracked from plans to bring legal action. Manning's lawsuit flip-flop raised eyebrows in the football world, which may have motivated him to cooperate with the NFL's investigation.
Manning retired from the NFL following his Super Bowl 50 win, leaving the sport as a two-time champion and a shoe-in Hall of Famer. No. 18 left the game as the league's all-time leader in total wins by a QB (200), passing yards (71,940), and passing touchdowns (539) and also left the sport as the highest-paid player in league history. Over his career, Manning netted roughly a quarter-billion dollars, and that's before considering his sponsorship deals.
Manning evened the score with brother Eli Manning when he secured his second Super Bowl ring, but the elder Manning had a tumultuous year to say the least. Peyton struggled to open the season but many didn't notice as the Broncos came out of the gate 7-0 thanks to their defense. Soon after that, however, Manning's decline became quite apparent to all observers. The Broncos eventually installed Brock Osweiler as their starting QB and it wasn't until Week 17 when they put the Sheriff back in the starting role.
While the league's investigation into Manning is now closed, today's press release makes it clear that the NFL will continue to look into the allegations raised against Julius Peppers, Clay Matthews, James Harrison, and Mike Neal.
Photo courtesy of USA Today Sports Images.
Follow @PFRumors