The Chargers are preparing as if No. 3 overall Joey Bosa won't be with the club when the regular season begins, according to Eric D. Williams of ESPN.com. San Diego opens the season against the division rival Chiefs on September 11.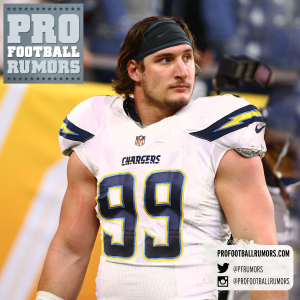 [RELATED: San Diego Chargers Depth Chart]
"We'll have a plan for him whenever he's here," head coach Mike McCoy said of Bosa. "We've talked about it over time, from the very beginning of camp. So we've got a plan for when he's in the building. But I'm very pleased with the other 89 guys in camp at this point in time."
According to Williams, second-year pro Darius Philon figures to see the most snaps in place of Bosa. Philon, a 2015 sixth-round pick, appeared in eight games for the Bolts last year, playing on about 14% of the club's defensive plays. McCoy also praised the performance of backup Tenny Palepoi, while Zamir Carlis, who was signed two weeks ago, could also factor into a rotation.
The Chargers, who began talking with Bosa's camp again last week, have been insistent on Bosa accepting offset language in his deal that would take them off the hook in the event that he would be released before the scheduled conclusion of the deal. The Bolts are also pushing for part of Bosa's signing bonus to be deferred. Bosa's reps say that they will not accept both of those terms, particularly since four of the players to go in the top 10 of this year's draft will receive most or all of their signing bonuses in 2016.
In order for Bosa to agree to offset language, agent Todd France reportedly wants the Chargers to pay all ~$17MM) of his bonus this year. San Diego, meanwhile, would rather wait until next March to dole out a "significant portion" of the bonus. At last check, the Chargers want to give Bosa roughly 61 percent of his signing bonus during this calendar year, which is the same payout schedule the Cowboys agreed to with fourth overall selection Ezekiel Elliott, who was Bosa's teammate at Ohio State and went one pick after him.
Photo courtesy of Pro Football Rumors on Instagram.
Follow @PFRumors