The Colts are eyeing available wide receivers after waiving Josh Boyce earlier today, as head coach Chuck Pagano told reporters, including Stephen Holder of the Indianapolis Star, earlier today. "We have some young guys that we want to focus on a little bit," Pagano said. "And there's some guys out there that we're looking at as well."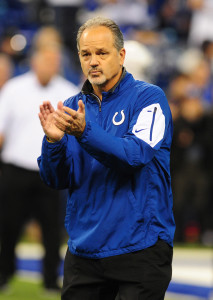 [RELATED: Impact Rookies — Indianapolis Colts]
Indianapolis, of course, was burned by last year's veteran wide receiver addition, as Andre Johnson posted the worst season of his 13-year career, managing only 41 receptions for just over 500 yards before being released this spring. Reserve option Griff Whalen was also cut this offseason, meaning the Colts have little in the way of depth behind T.Y. Hilton and Donte Moncrief, though 2015 first-round pick Phillip Dorsett will be asked to play a lot more than the 212 snaps he saw last season. As Roster Resource shows, Quan Bray, Chester Rogers, Josh Stangby, and Mekale McKay are next in line behind Indy's starting trio.
Several veteran wideouts, including Anquan Boldin and James Jones have found new homes this week, but other options such as Roddy White, Devin Hester, Marques Colston, Brian Hartline, and Denarius Moore still remain on the free agent board. Both White and Hester recently reiterated their desire to continue playing in 2016, and Hester claimed seven clubs have already reached out to him. One other intriguing name could be Vincent Brown, who was recently released with an injury settlement by the Saints — Brown spent last summer on the Colts roster before being let go during final cutdowns, so he could be a familiar face for Indianapolis, provided he's healthy.
After Pagano made his comments regarding the wide receiver market, the Colts made another roster move, replacing pass-catcher Andre Debose with fellow wideout Andrew Opoku. It's entirely possible that Opoku was the receiver Pagano was referring to, but clearly veteran free agents are also plentiful.
Photo courtesy of USA Today Sports Images.
Follow @PFRumors