The old adage that defense wins championships may or may not be true, but you'll be hard-pressed to find a title-winning team that didn't build heavily through the draft. Rookie classes, naturally, are evaluated on the perceived upside of the NFL newcomers, but which rookies are ready to contribute right out of the gate? And, how do they fit in with their new team schematically?
To help us forecast the immediate future of these NFL neophytes, we enlisted the help of draft guru Dave-Te Thomas who has served as a scouting personnel consultant to NFL teams for multiple decades.
Now, we continue PFR's Impact Rookie series with his insight on the Indianapolis Colts' draft class:
One can argue that head coach Chuck Pagano and general manager Ryan Grigson are like oil and vinegar, as they just don't seem to mix. Now, with both having their jobs on the line, they hope they can find the right ingredients for the team's salad before both are tossed by ownership. Grigson does not have a great track record to survive another draft disaster, but outside of his first two choices in the 2016 draft, the other six selections will have a fight on their hands to secure roster spots.
Since taking over as general manager in January 2012, Grigson has overseen the draft with less than stellar results. Not counting his cache in 2016, he's drafted 26 players from the 2012-15 phases. Based on his current roster, seven of those choices have earned starting jobs for the Colts. Four others precariously hang on to reserve roles, while eighteen others are no longer with the team, including a slew of them no longer in the league. Now, Grigson hopes he can stem the tide from those draft day disasters that also include 2013 first round selection Bjoern Werner.
Grigson's first-ever draft selection was a no-brainer, taking franchise quarterback Andrew Luck with the top pick in 2012. However, Luck has been constantly harassed in the pocket while playing behind what is unanimously considered the worst offensive line in pro football last year. To protect their quarterback, the team pulled out a page from Hall of Fame coach Paul Brown's mantra for building a team – start with a franchise-type center and build your line around him.
First Round – Ryan Kelly, C (Alabama, No. 18)
Luck looked like the Titanic – a total wreck – just seven games into the 2015 season. That was all the games the franchise QB would appear in, as five others tried their hand at quarterback after Luck was lost for the rest of the season. The former Stanford product produced his worst pro season ever, as he completed just 55.3% of his passes and had almost as many interceptions (12) as touchdown tosses (15).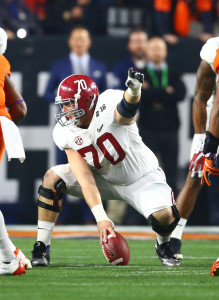 The offensive line allowed 35 sacks last year. Luck was hit an incredible 121 times after getting rid of the ball and the running corps remained dormant, averaging 3.6 yards per attempt while reaching the end zone just six times. On top of it, those ball carriers coughed up the sphere nineteen times, resulting in eleven recoveries by the opposition.
Something needed to change in the trenches – enter Ryan Kelly, perhaps the "toughest hombre" to play in the pivot since the heydays of the Bears' Olin Kreutz. With multiple national title rings on his fingers, Kelly brings that instant nastiness to the line that has been missing since Jeff Saturday was snapping the ball to Peyton Manning.
In the Colts' zone blocking scheme, the center needs to be athletic enough to work down the line, along with having the agility to block in the second level. Against 3-4 defensive alignments, they are also required to have that strong anchor, in order to stall the two-gap charge from the nose guards. In most cases, size does not matter –intelligence, strength and balance are more important. Field smarts are needed to immediately identify the defense's pressure packages.
Strength is needed, in order to stall the bull rush and help in widening the rush lanes. Quick feet and fluid retreat skills are required, as it is often the center that has to drop back and protect the pocket in passing situations. A long reach, firm anchor and great balance are important for the center, as he is usually asked to work in combination with his guards getting out in front on traps and pulls. These are all the traits that Kelly brings to the table, giving the team an immediate upgrade from former starter, Khaled Holmes.
Kelly might also have some "new friends" on the offensive line, as third round pick, Le'Raven Clark, will serve as an understudy behind Anthony Castonzo at left tackle. Five round choice, Joseph Haeg, shifts to right tackle, where he could mount a challenge for Denzelle Good's precarious hold on the starting job. Toss in seventh round center/guard Austin Blythe for good measure, as there are no other back-ups to Kelly at center on the roster.
Second Round – T.J. Green, S (Clemson, No. 57 overall)
Outside of Jalen Ramsey, there were no free safeties considered to be first round material this year. In fact, since the 2000 draft, just eight safeties were chosen within the top ten picks of the draft, most recently when Tampa Bay made Mark Barron the seventh pick in 2012. Still, Green offers promise.
Green impressed scouts throughout his final season at Clemson, as the former wide receiver moved to the secondary in 2013. Once given playing time, he produced had 162 tackles, one interception and 24 kickoff returns for 505 yards in 980 snaps over 26 games (16 starts) on defense in his career. Last season, he was the team's second-leading tackler with 95 hits, including five for losses while coming on the safety blitz.
Do not be fooled by Green's lack of experience. He has keen football instincts and field awareness, showing good urgency taking proper angles to close and shows a good feel in zone coverage to pick up and anticipate on the switch-off and combo routes. He processes the action in front of him well and gets a quick jump on the ball in run support. He studies the quarterback intently, getting a good jump on the action in front of him. He is very good at making his reads and reacting to the pre-snap movement and he looks instinctive and smart in both zone and man coverage.
Green's addition will give the team an heir to Mike Adams, but it will likely lead to a few position changes in the backfield. Once the team deems Green capable of starting, current starter, Clayton Geathers, could shift to strong safety, a position that he starred at during his college days. Adams, with his advanced age, will serve as a mentor to the youngsters of the secondary, leaving Winston Guy, Andrew Williamson, Dezmen Southward, and Stefan McClure fighting it out for the fourth and final safety slot on the roster.
Undrafted Rookie Free Agent – Josh Ferguson, RB (Illinois)
Last year, the Colts had one of the least productive running corps in the NFL with sixteen different players carrying the ball. Outside of aging Frank Gore (260 tries for 967 yards), no Colts runner had more than 33 carries. All six of the team's rushing touchdowns were recorded by Gore, along with five of the seven gains that went for twenty yards or longer.
It was quite a surprise to me when Ferguson was not taken in the draft. Twenty other tailbacks were selected while Ferguson sat waiting for his phone to ring. Once mini-camp opened, Colts coaches realized that they might have a hidden gem in this speedy Illini ball carrier. He will enter training camp sixth on the depth chart at his position, but you can not deny that he joins the team with a very impressive resume.
Ferguson ended the 2015 season as only active FBS player with at least 2,500 yards rushing (2,586) and 1,500 yards receiving (1,507). He finished second on the Illini career all-purpose yards list (4,474), sixth on the rushing list, third in receptions (168), seventh in total touchdowns (26), and the record-holder for most receptions and receiving yards by a running back.
The Colts' running backs behind Gore include the likes of Robert Turbin, Jordan Todman, and Miami reject Trey Williams, so it's not hard to envision Ferguson cracking the roster. Ferguson's receiving skills trump Todman's and if he can add to his resume as a kickoff returner, he has an excellent opportunity to be the team's third-down back next season.
Dave-Te Thomas owns and operates The NFL Draft Report, a service which has provided insight to league scouting departments for over 40 years. All year round, can read Thomas' in-depth reviews of both blue chip prospects and diamonds in the rough by visiting the NFL Draft Report blog. 
Photo courtesy of USA Today Sports Images.
Follow @PFRumors