Soon after the NFL suspended Josh Brown one game for violating the league's personal conduct policy, the kicker stood in front of Giants beat writers and said that he did not agree with the punishment. Brown was arrested in May 2015 on an alleged fourth-degree domestic violence charge with his now-former wife, but he felt that the one-game ban was excessive since the state of Washington dropped the charges that same week.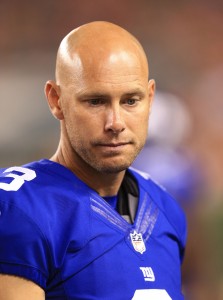 [RELATED: NFL Suspends Giants K Josh Brown]
Today, Seth Walder of the New York Daily News unearthed the full contents of that 2015 police report and, if the allegations are true, they paint a disturbing pattern of domestic violence between Brown and his now former wife. Molly Brown told police that the Giants kicker had been physically violent with her over 20 times and that she had previously had a protection order against him. Furthermore, she alleged that the violence began while she was pregnant with their daughter.
When asked Thursday about the incident that led to his arrest, Brown said, "It was just a moment." His ex-wife's account of things throws that into question, but it's not immediately clear if there is additional evidence to support her claims. If the claims prove to have merit, then the league may seek to extend Brown's suspension. The NFL will also have to answer questions about their investigative practices if they did indeed miss a history of violence in Brown's past.
Photo courtesy of USA Today Sports Images.
Follow @PFRumors