Steelers linebacker James Harrison and Packers linebackers Clay Matthews and Julius Peppers have agreed to meet with NFL investigators, sources tell ESPN's Chris Mortensen. However, Tom Pelissero of USA Today (on Twitter) hears that free-agent linebacker Mike Neal has not yet agreed to an interview. The league threatened suspensions for all four players if they did not cooperate. The NFL has been pushing to meet with the quartet of notables after steroid allegations were made in an Al-Jazeera report.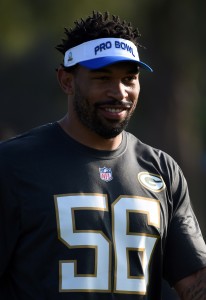 Harrison has agreed to meet on August 29th at the team facility, though he says he will only answer questions concerning the segment of the documentary in which he was identified. It is not yet clear if the league will accept those conditions. It's also not clear exactly when Matthews and Peppers will meet with investigators. The NFLPA will serve in an advisory capacity, even if they are not thrilled about the precedent the interviews may set.
On Tuesday, Harrison explained to reporters that he had serious reservations about the potential interview.
"Somebody could come out and say James Harrison is a pedophile. They are going to suspend me, put me under investigation for being a pedophile just because somebody said it? I'm not going to answer questions for every little thing some Tom, Dick and Harry comes up with," Harrison said.
Photo courtesy of USA Today Sports Images.

Follow @PFRumors