The injury that Cowboys quarterback Tony Romo suffered Thursday night is a compression fracture of the L1 vertebra, and while it will not require surgery, Romo could miss six to 10 weeks, as ESPN.com's Todd Archer reports. Despite the injury, and despite his age (36), Romo is not considering retirement and has no doubt that he will return to the field this season, as ESPN's Ed Werder tweets.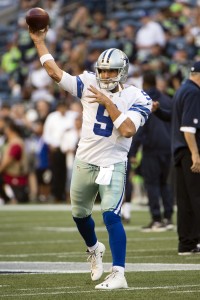 Rookie signal-caller Dak Prescott, who has been impressive in training camp and in preseason action, will get the nod in Romo's absence. And there are those who believe the job should not simply be handed back to Romo upon his return. Charles Robinson of Yahoo! Sports, for instance, concedes that Romo's contract–which makes him virtually uncuttable through 2017–and his history with the club mean that he will likely be reinserted in the starting lineup when he is healthy. However, Robinson also notes that Dallas is getting very little return on Romo's six-year, $108 million contract extension, and if Prescott performs as well in the regular season as he has in the preseason–a big "if" to be sure–the club should think twice about yanking Prescott, especially since the team should only be thinking about Romo in terms of weeks and months, and not years, at this point.
Joel Corry of CBS Sports believes Romo may be an ideal candidate for short-term injured reserve. The Cowboys could place him on IR now, and although only one player on injured reserve may return to the active roster in any given year, Dallas does not have to designate who that player will be right away. As Corry writes, "Putting Romo on IR would remove the temptation for Dallas to rush him back on the field before he has sufficiently recovered, especially if Prescott falters, when the risk of re-injury would be greater." Plus, even though Romo would be ineligible to return before Week 9 if the Cowboys go that route, that would not be a major concern in this case. As Corry points out, "Considering that Dallas' bye is in Week 7, Romo would only be missing one game, the Week 8 contest [against Philadelphia], over the most optimistic estimated return time by going on IR."
Corry also explores free agent quarterbacks that Dallas could pursue. The potential options in that regard are predictably less than intriguing, with names like Josh Freeman and Michael Vick topping the list (the team could also seek a reunion with Brandon Weeden if he is ultimately cut by the Texans). Alternatively, Dallas could look to trade for a player like Cleveland's Josh McCown, Denver's Mark Sanchez, or the Jets' Geno Smith. It should not cost more than a late-round 2017 or 2018 draft pick to acquire a quarterback of that caliber, and instead of giving up a pick, the Cowboys could also look to deal a player from a position of strength (Darren McFadden and Ronald Leary are two names that jump immediately to mind).
In any event, the Cowboys appear to be approaching a crossroad in franchise history, and Prescott's performance over the first half of the season will go a long way in dictating which path the team will take.
Photo courtesy of USA TOday Sports Images
Follow @PFRumors