A representative for Steelers linebacker James Harrison told Jason La Canfora of CBSSports.com (on Twitter) that his client has never "denied an attempt for an interview" and said he "would be open to it," though the NFLPA is handling the case. Speaking to reporters on Tuesday, Harrison himself intimated that he is allowing the union to take the lead on the matter, though he also had personal objections to the interviews. When asked why he wouldn't opt to just get the process over with, Harrison responded: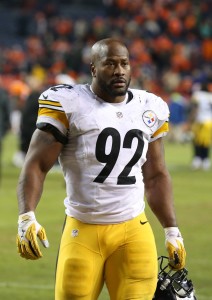 "If that's the case, then somebody could come out and say James Harrison is a pedophile. They are going to suspend me, put me under investigation for being a pedophile just because somebody said it? I'm not going to answer questions for every little thing some Tom, Dick and Harry comes up with (via Chuck Schilken the Los Angeles Times).
Meanwhile, Harrison was asked to take a random PED test on Tuesday, one day after the league threatened to suspend him and the three other players implicated in the Al Jazeera documentary if they do not consent to interviews. In a Facebook video, Harrison expressed doubt that the test was in fact "random."
The league says that Clay Matthews, Julius Peppers, Mike Neal, and Harrison will face suspensions if they do not submit to an interview by next Friday. As the NFLPA locks heads with the NFL, the union's only option may be to file a lawsuit, Mike Florio of Pro Football Talk writes. The union – fearful of setting a dangerous precedent – has told those players not to consent to the interviews. The PED policy states that the NFL may impose discipline if it has "credible evidence" of a violation. The NFLPA argues that the unwittingly recorded bragging of Indiana-based pharmacist Charles Sly does not qualify as "credible," but the commissioner's office does not agree.
While it seems like the players are facing union pressure not to talk to Roger Goodell, NFLPA president Eric Winston says that each player will ultimately choose their own course of action.
"We've spent the last few days advising our players and letting them know in a completely honest and open way exactly what their options are, what they want to do," Winston told Florio. "Each case is different, each guy is different. Each guy might want to do different things so no matter what we're going fight for them like crazy like we always do, and we're going go and have our players' backs. That's what we're all about and that's all we can do and that's what we're going to continue to do."
Photo courtesy of USA Today Sports Images.
Follow @PFRumors