The four players who have thus far refused to speak with the NFL about their involvement in a PED scandal will be suspended if they do not cooperate by August 26th, a source tells Tom Pelissero of USA Today (Twitter links: 1, 2, 3, 4). Clay Matthews, Julius Peppers, James Harrison, and Mike Neal all face bans if they don't submit to interviews with the league by next Friday. The suspensions would be for conduct detrimental, according to Pelissero, and separate from any drug-related bans the players may face.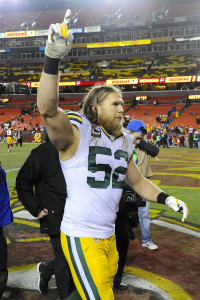 "We cannot accept your unilateral assertion that the cursory, untested statements you have submitted satisfy the players' obligation," reads the league's letter to the players' union. "Accordingly, the Commissioner has directed that Messrs. Harrison, Matthews, Neal and Peppers be given until Thursday, August 25 to provide interviews.
For those players whose interviews do not take place on or before that date, or who fail meaningfully to participate in or otherwise obstruct the interview, their actions will constitute conduct detrimental and they will be suspended, separate and apart from any possible future determination that they violated the steroid policy. The suspension for each such player will begin on Friday, August 26 and will continue until he has fully participated in an interview with league investigators, after which the Commissioner will determine whether and when the suspension should be lifted."
The NFL received written statements from the four players in question at the end of last month, and the NFLPA is of the opinion that those affadavits qualify as "cooperation." The league disagrees, and is still requiring the individuals to partake in in-person interviews at training camp. The league informed the union that it first plans to interview Neal, who spent 2010-15 with the Packers but is currently a free agent. He attributes his unemployment, at least in part, to the documentary that links him, Peppers and Harrison to hormone supplement Delta-2, which is designed to stay ahead of drug tests.
Former Jets/Dolphins tight end Dustin Keller's name has also been mentioned in connection with the probe, and the league reportedly wants to interview him, as well. Peyton Manning, meanwhile, had been linked to the investigation, but was recently cleared of all charges.
Photo courtesy of USA Today Sports Images.
Follow @PFRumors