As the Chargers and Joey Bosa continue to slug it out, it appears that things are getting exceedingly ugly between the two sides. Now, Bosa feels that irreparable damage has been done to his relationship with the team, a source close to the player tells Jason Cole of Bleacher Report (video link).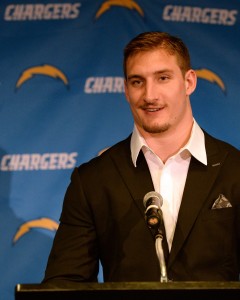 The Chargers have not called Bosa's camp back in nearly two weeks after his reps gave the team a proposal and Bosa feels personally disrespected by that. Furthermore, Bosa feels that public statements made by teammates such as Antonio Gates are part of a calculated effort to get the Ohio State product to report. Bosa finds those types of characterizations from some of his teammates to be "unfair" and not representative of the relationship he hopes to ultimately have with them.
When the two sides were at a stalemate in July, many assumed that the two sides would ultimately get a deal done after some wrangling. At this stage, it's fair to wonder if Bosa's contract impasse could drag into the regular season.
Photo courtesy of USA Today Sports Images.
Follow @PFRumors