Injuries take a major toll in Minnesota. The Vikings had already dealt with enough injury scenarios for one season, as they'd lost quarterback Teddy Bridgewater for the season following a torn ACL. But after finding a new QB in Sam Bradford, the health concerns haven't stopped, as Adrian Peterson is now done for at least eight weeks after tearing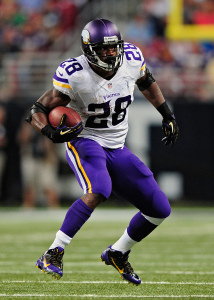 his meniscus Peterson, for his part, believes he'll be able to return from IR after the minimum eight-week absence. Some in the Vikings organization have questioned Peterson's decision to undergo surgery, but the club's ownership/front office still support their All Pro back. Meanwhile, left tackle Matt Kalil has also landed on IR (and is unlikely to return this season), while defensive tackle Shariff Floyd will miss six weeks after knee surgery.
No Brady? No problem. Jimmy Garoppolo was excellent for the Patriots in last Sunday's win against the Dolphins, throwing three touchdowns before leaving the game with a shoulder injury. Third-string rookie Jacoby Brissett picked up where Jimmy G. left off, leading New England to a 27-0 victory over the Texans on Thursday. The only problem? Brissett is now injured as well, having suffered a thumb sprain during the Houston contest. The Patriots have met with free agent QBs T.J. Yates and Sean Renfree, but both Garoppolo and Brissett could be ready for Week 4. Week 5, this guy returns.
No more ASJ in TB. The Buccaneers cut ties with former second-round pick Austin Seferian-Jenkins, waiving the tight end after he was arrested for DUI on Friday morning. This was ASJ's second DUI, as he was also arrested on the charge in 2013 while at the University of Washington. The 6-foot-6, 250-pounder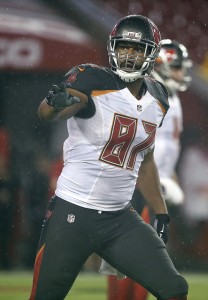 appeared in just 16 total games in his first two seasons and made 12 starts, combining for 42 receptions on 77 targets to go with 559 yards and six touchdowns. Seferian-Jenkins is on waivers through Monday, but given that the Bucs are reportedly worried about his well-being, it's possible he won't be claimed.
Seahawks get busted. The Seahawks were docked their 2017 fifth-round pick for violating the league's rules regarding contact practices in the offseason, while the club will also lose a week of OTAs and face a fine of $400K. Head coach Pete Carroll personally will have to pay $200K in fines for his role. The NFL and NFLPA's agreement on excessive contact in offseason workouts was breached on June 6th when Carroll's team doled out hard hits during OTAs. This is not the first time that the Seahawks have run afoul of these regulations and, therefore, they were docked a draft choice in addition to the fines.
NFC East suspensions. Eagles right tackle Lane Johnson finally has a date for the appeal of his 10-game suspension. The meeting will take place on October 4, meaning Johnson will play on Sunday against the Steelers before Philadelphia enters its Week 4 bye. If Johnson's ban is upheld, he won't be able to return until mid-December — he'd get to face the Ravens, Giants, and Cowboys to close the season. Dallas edge rusher Randy Gregory, meanwhile, dropped his appeal of his own 10-game suspension. Gregory is already in the midst of a separate four-game ban, so he won't return to the field until Week 15.
Photos courtesy of USA Today Sports Images.
Follow @PFRumors