Emmanuel Sanders would have been one of the most coveted wideouts on the 2017 free agent market, even as he's entering the final season of his 20s. But he's now the highest-paid No. 2 wide receiver in football and opted for security on a team that no longer uses the pass-first system that attracted him to Denver.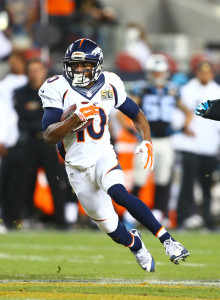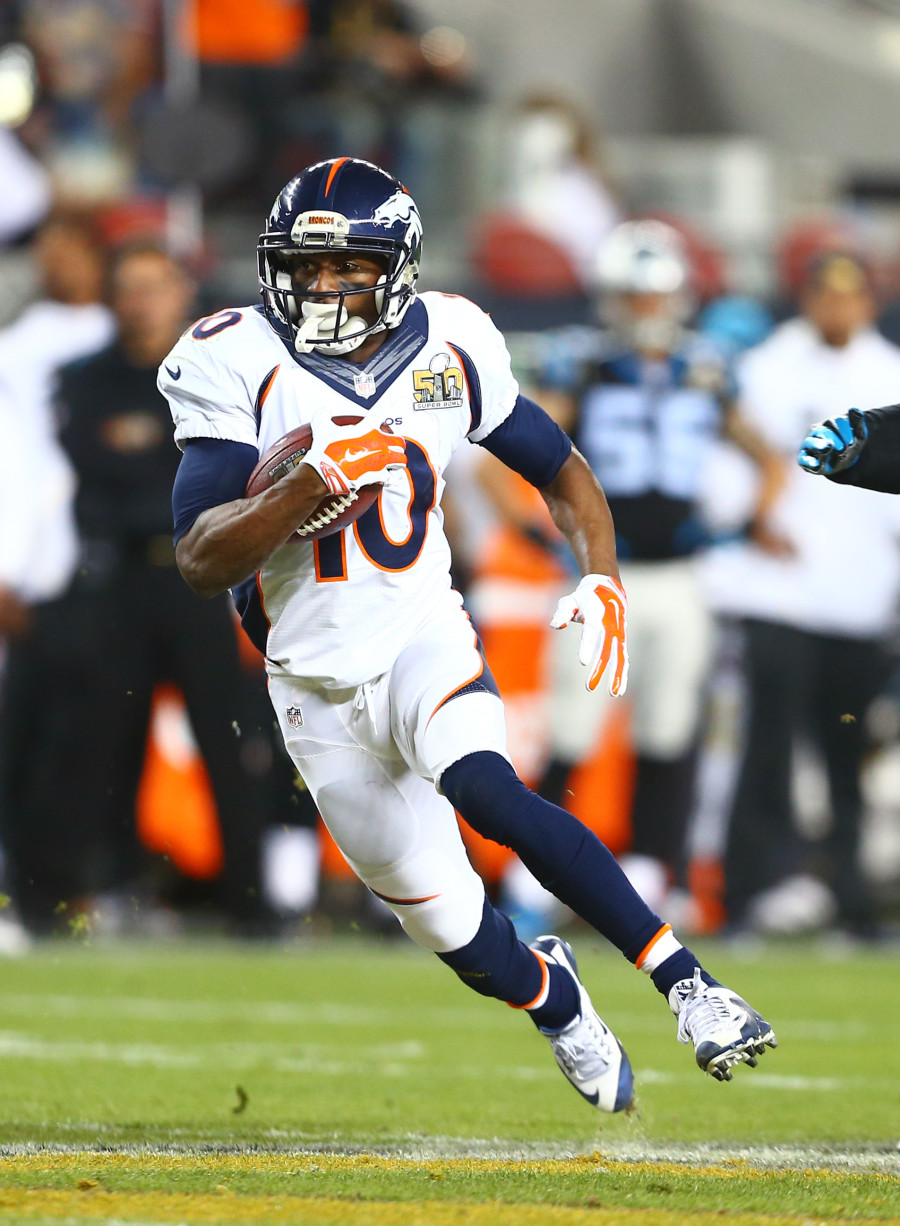 "I wanted to be here and I kept saying that we just have to find the right number,'' Sanders said, via Mike Klis of 9News. "I could've possibly went to another team that's pass-happy, but I'm all about winning championships and I think that we've got the formula."
The 29-year-old receiver signed a three-year, $33MM extension that will make the Broncos' No. 2 target the league's 10th-highest-paid receiver on average. Although the sides reached an agreement a day prior to the Broncos' season opener, John Elway — according to Nick Groke of the Denver Post — had not heard from Sanders' side recently, but the Tavon Austin four-year, $42.5MM Rams extension appears to have spurred some action. Elway admitted the Broncos were examining that contract, likely on how it pertained to Sanders' value.
"I could have went to the open market and I could have made more money, but to play alongside Aqib Talib and Chris Harris, guys have to take, they call it the 'hometown discount,'" Sanders said, via Klis. "At the end of the day, we're all rocking hardware on our fingers right now and we're chasing, trying to get two or maybe three or four so that's what it's about."
The overall deal doesn't profile as a discount, with Sanders joining the eight-figure-AAV club. But the details of the accord appear to make it favorable for both sides. Sanders received a $10.75MM signing bonus, and his $2.75MM base salary is fully guaranteed this season, Klis reports. Sanders' $6.75MM base for 2017 is also fully guaranteed, and his $8.25MM 2018 salary becomes fully guaranteed on the fifth day of the '18 league year. The highest base figure in this deal, a $10.25MM 2019 salary, is non-guaranteed.
This represents a change in organizational philosophy under Elway, who did not make a strong attempt to re-sign Eric Decker in 2014. Klis writes the uncertainty around what it would take to re-sign the since-departed Julius Thomas factored into that decision. Now that the Broncos are devoid of a franchise-quarterback salary and don't feature tight ends that are going to be breaking the bank any time soon, the opportunity to pay a second pass-catcher top-market money emerged.
"I still play from the heart, and the money will come as long as you don't play for the money," Sanders said, via Klis. "It shows up on tape, it shows up on tape exactly what you're playing for so I really wasn't focused on that, but when my agent [Todd France] reached out to me that the Broncos were interested in an extension, I was excited about that, but I knew that we do have a receiver in Demaryius Thomas who is making 14 [million], 15 [million]. I knew that it was going to be tough, but they came with the right number, it was a great number and I'm excited to be here."
Photo courtesy of USA Today Sports Images.
Follow @PFRumors