The Eagles decision to trade Sam Bradford to the Vikings seemed to make sense on paper. The team received a haul for the quarterback, and they had second-overall pick Carson Wentz waiting in the wings. However, as Mike Florio of ProFootballTalk.com notes, several of the team's veterans weren't happy with the front office's decision to trade Bradford.
Former Eagles running back Brian Westbrook appeared on PFT Live recently to discuss the move. Westbrook noted that the team's decision to opt for a rookie quarterback may indicate that the organization isn't serious about competing in 2016.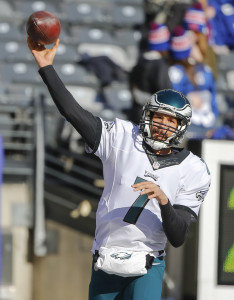 "I kind of feel for those veterans like Jason Peters and Malcolm Jenkins, because I know and I was in the situation," Westbrook said. "I had Donovan McNabb my entire career in Philadelphia but at some point they benched Donovan McNabb when we were in Baltimore and they put in Kevin Kolb. You just wonder, 'OK, what are we doing here?' Because we felt right now we had one of the better quarterbacks in the league in Donovan on the bench.
"It's a little bit different situation with Sam Bradford because he hasn't been one of the better quarterbacks on that same type of level as Donovan but if I'm on this football team here in Philadelphia right now and I'm a veteran I'm saying, 'Well, hold on, timeout. We're building for the future but that future does not necessarily include me and I have a problem with that.' It's good for the organization but not necessarily good for those veteran guys and so I would be a little disappointed."
Well, that would seem like normal hyperbole, but Florio made a point of asking Westbrook outright whether some current Eagles had an issue with the trade.
"Definitely," Westbrook said. "There's no doubt about it and I've talked to a few guys that have expressed that. A few guys have said, 'We're trying to win this year because I don't know if I'm going to play next year and I'm definitely not sure if I'm going to be able to be in Philadelphia next year. So as much as we want this young guy Carson Wentz to be successful we're concerned about winning this year. We're concerned about winning now.' …
"I think that there's an understanding from the fans, the coaching staff as well as the front office that, 'Hey, we're going to need to take some time to build this thing the right way.' Unfortunately for some of the older players, some of the veteran players, that doesn't necessarily mesh with what your goal is as far as winning right now."
For what it's worth, Bradford led his team to a 7-7 record in his 14 starts in 2015 (albeit in an entirely different scheme). The 28-year-old actually had one of his more productive NFL seasons, compiling a career-high 3,725 passing yards to go along with 19 touchdowns and 14 interceptions.
Follow @PFRumors