Adrian Peterson indicated just yesterday that he believes he will return from IR this season, although his prognosis is certainly premature and perhaps overly optimistic, as doctors will have to wait at least one month before determining if the veteran back has any shot at playing again this year.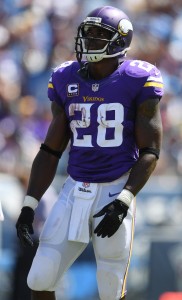 And, since his potential return to the field in 2016 is very much in doubt, there has already been a great deal of speculation regarding Peterson's future in Minnesota. As the Minneapolis Star-Tribune wrote several days ago, Peterson never looked like a great bet to return to Minnesota in 2017 barring some sort of contract adjustment, as he's set to count for an untenable $18MM on next year's cap (which is comprised of a $6MM roster bonus on the third day of the 2017 league year, along with $12MM more in base salary and workout bonuses). All of that total can be cleared out by releasing him, and given that Peterson isn't a perfect fit for offensive coordinator Norv Turner's scheme–not to mention the fact that the Vikings are transitioning into more of a throwing team under Turner–it is logical to think that he'll be playing for a new club next season.
Jason La Canfora of CBS Sports added his support to that viewpoint his morning, writing that even if Peterson had enjoyed a typical Peterson year in 2016, it was highly unlikely that he would have returned to the Vikings under his current deal. As such, his future with the Vikings will hinge on their ability to renegotiate his contract prior to his $6MM roster bonus coming due in March.
Despite all of that, Ian Rapoport of NFL.com reports that Minnesota wants Peterson to retire as a member of the Vikings, and two sources with direct knowledge of the situation indicated that it would not be a surprise to see Peterson back with the club in 2017. After all, the massive $96MM deal that he signed in 2011 was always set to expire at the end of 2017, so it's not as if player and team haven't prepared for this moment. Furthermore, the restructure of that deal that Peterson and the Vikings agreed to in July of last year suggests that the two sides can come together to make a tough situation work, just as they did when Peterson was suspended by the NFL for violating the league's personal conduct policy in 2014.
Rapoport goes on to say that the Vikings have consistently demonstrated loyalty to Peterson since he was drafted in 2007, and they expect that to continue (they may also expect Peterson to pay them back in kind by agreeing to modify his contract). As Albert Breer of TheMMQB tweets, this situation is similar to the one that the Cardinals and Larry Fitzgerald found themselves in several years ago, which ultimately resulted in a satisfactory compromise that kept one of the best players in franchise history with the only club he has ever known. And according to Rapoport, there is a good chance that Peterson and the Vikings will enjoy the same outcome.
Photo courtesy of USA Today Sports Images
Follow @PFRumors