The old adage that defense wins championships may or may not be true, but you'll be hard-pressed to find a title-winning team that didn't build heavily through the draft. Rookie classes, naturally, are evaluated on the perceived upside of the NFL newcomers, but which rookies are ready to contribute right out of the gate? And, how do they fit in with their new team schematically?
To help us forecast the immediate future of these NFL neophytes, we enlisted the help of draft guru Dave-Te Thomas who has served as a scouting personnel consultant to NFL teams for multiple decades.
Even Stevie Wonder could see that the biggest problem for Los Angeles/St. Louis was their quest to find Kurt Warner's replacement. They finally feel they found that answer in-state, drafting Jared Goff after a trade for the rifle-armed passer. The front office then used four of their next five selection to add weapons to the receiving corps for their new signal caller. Still, all that attention led to two glaring omissions – help for both lines.
[RELATED – Offseason In Review: Los Angeles Rams]
Goff is expected to be brought along slowly this year and based on his exhibition performances to date, it seems like a wise idea to have him observe, rather than being thrown to the wolves. The Rams offensive line is mediocre, if even that, and will be breaking in two new guards this season, along with trying to figure out the tight end and wide receiver crowd. The No. 1 overall pick in this year's draft may prove to be a solid quarterback down the line, but you won't see him listed as an "Impact Rookie." In fact, there's only one member of the Rams rookie class that we can envision making a mark this year.
Fourth Round – Tyler Higbee, TE (Western Kentucky, No. 110 overall)
At one point this summer, Higbee was running with the first team and it looked like he might be Los Angeles' primary tight end. Instead, Higbee is No. 2 on the TE depth chart behind Lance Kendricks. In the Rams' season opener, Higbee caught one pass for two yards. That's hardly superstar production, but he did draw four targets while Kendricks saw only three.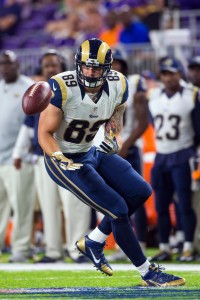 If the Rams can figure out their offensive line issues, then Higbee could have a chance to break out a bit in his frosh campaign. There is no doubt that Higbee is an NFL caliber tight end. The big question is – will he mature enough to stay out of trouble off the field?
For a tight end, Higbee displays good quickness and timed speed. He has above average agility, flexibility, and burst and displays the ability to adjust on the run. The WKU product stays on his feet with good balance, flexibility and change of direction agility. He makes good adjustments on the run, doing a nice job of spotting coverage while running routes. He has the speed to get open after the catch and shows good hustle getting out on the edge to cut block.
Higbee might not be bulky, but he does not step away from b fourthlocking assignments down field. He needs to be more physical in his in-line blocking approach, though. He is a well-coordinated athlete with good speed and quick feet for his position. He shows good balance in his routes and has enough speed to threaten the defenses on deep patterns, but is more comfortable on controlled routes. Higbee runs with a normal stride and builds quickly to top speed. He is not really explosive, but has the balance and body control to make proper adjustments on the move.
Higbee has soft hands and is very good with hand placement on the ball. He will catch in his hands, extend and pluck outside the framework and look natural doing both. The thing you notice on film is his ball concentration skills. Once he gets the ball within his grasp, it will result in a clean catch. When in stride, he catches the ball smoothly, showing the hand/eye coordination to make proper body adjustments and will extend some to catch out of the body's framework.
As a fourth-round pick, Higbee may make some GMs regret passing him up. But, he'll need the offense around him to get it together.
Dave-Te Thomas owns and operates The NFL Draft Report, a service providing insight to league scouting departments for over 40 years. All year round, you can read Thomas' in-depth reviews of both blue chip prospects and diamonds in the rough by visiting the NFL Draft Report blog.
Photos courtesy of USA Today Sports Images.
Follow @PFRumors