On the heels of former Chargers GM A.J. Smith categorizing the team's agreement with Los Angeles as basically a bluff, the team's point man regarding the push for a downtown San Diego stadium responded.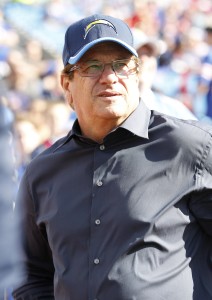 "I can tell you if it was you or me or any other reasonable person, we'd be looking for a house somewhere on the west side of Los Angeles," Fred Maas told Kevin Acee of the San Diego Union-Tribune during a radio interview. "… There is a very fixed and firm opportunity that far surpasses whatever the best opportunity may be in San Diego.
"I can tell you first-hand — not from people I've spoken to at the NFL, not from rumor central — the only option other than Measure C [the downtown stadium] is a departure to Los Angeles. … Measure C is what is before the voters, and that is what we're putting our full faith effort and credit into, but for that I'm afraid the most prudent choice would be to go north."
The Chargers, as of now, need a two-thirds majority to pass this measure in November. Acee notes the team may be looking for a moral victory of sorts and a reason to stay in San Diego, one that could show up at the polls even if the number ultimately falls short of the two-thirds majority. The team acknowledges the measure will be difficult to pass at 66.6%.
Maas, who said he agreed to work with the Bolts on this project after observing Dean Spanos' desire to keep the team in San Diego, continued to maintain the voters have the choice of either keeping the Chargers via the measure passing or watching them move to a city they haven't played in since 1960, the franchise's first year.
"Who knows what happens after the election, though, but I'm telling you, I want to make sure I say it as unequivocally as I can, that really the option is staying here downtown and the choice that will be before voters — or not," Maas said.
The team still has the option to share Stan Kroenke's Inglewood stadium when it opens in 2019. But Acee notes many in the league are believed not to want Los Angeles to have two teams, nor does the Rams' owner want to share the market.
Photo courtesy of USA Today Sports Images.
Follow @PFRumors