The Chargers seem to be fighting an uphill battle in an effort to see their downtown stadium proposal pass on November 8. The measure failing will give them the same choices they had when it started: work with San Diego on another venture or move to Los Angeles.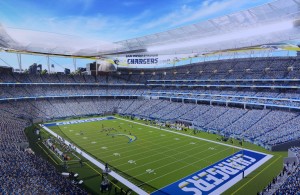 Former Chargers GM A.J. Smith does not see the team relocating, even if the downtown-stadium measure fails in two months.
"The Chargers aren't going anywhere," Smith said to the San Diego Union-Tribune's Kevin Acee during a radio interview (via Eric Williams of ESPN.com). "So the fear factor of the local fans, rest assured the Chargers will be here. There is no option to go to L.A."
The Chargers' GM from 2003-12, Smith is essentially calling the franchise's Los Angeles leverage a bluff, saying the league and Rams owner Stan Kroenke do not want them to move to Inglewood. The Chargers reached an agreement with the Rams earlier this year but soon announced plans to go forward with a San Diego project.
That project absorbed a blow when a California Supreme Court ruling determined, for now, the measure needs a two-thirds majority rather than to merely clear the 50% threshold. As recently as last month, the Chargers have mentioned leaving for Los Angeles if the measure fails. Smith doubts the sincerity of that proclamation.
"The reality is, there is no option," he said, via Tom Krasovic of the Union-Tribune. "There is an option, but it will never be exercised. … San Diego is coveted by the National Football League and the owners. The league wants a team here. They want them to stay here."
Even if the Chargers moved, they'd seemingly be paddling upstream since the team already saw the Rams gain publicity by moving to L.A. first earlier this year. The Chargers played in Los Angeles in 1960 but, unlike the Rams or Raiders, don't have a connection to the city other than that.
Photo courtesy of USA Today Sports Images.
Follow @PFRumors