Of all the NFL's divisions, the AFC East has offered the least in terms of parity during the 2010s. Every other NFL division has featured at least two teams claiming a title and this one still features a Patriots team that will deploy the Bill Belichick–Tom Brady duo for a large chunk of the season.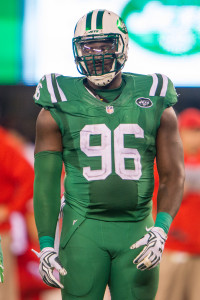 [RELATED: PFR's Impact Rookies Series]
The Patriots have won seven straight AFC East crowns and 13 of the past 16. New England is set to return its 39-year-old future Hall of Fame quarterback in Week 5, where he'll again team with one of the best tight ends in NFL history. Still, Rob Gronkowski has yet to make his 2016 debut yet and the Pats still have questions on defense due to injuries, suspensions, and the trade of Chandler Jones. However, the Jimmy Garoppolo-led outfit still showed enough to beat one of the league's best teams in Week 1 despite a host of key inactives.
Both the Jets and Dolphins upset the Patriots last season to deprive them of home-field advantage in the AFC playoffs, and each played a returning playoff team close in Week 1. Last season's second-place finisher, the Jets bring back arguably the best defensive line in football and, after some arduous negotiations, they have Ryan Fitzpatrick back on the other side of the ball.
The most recent non-Patriots division champion (in 2008), the Dolphins continue their first season under offensive wunderkind Adam Gase with a trip to Massachusetts on Sunday. The Fins haven't made the playoffs since that '08 campaign but added veterans in Arian Foster and Mario Williams, and drafted once-projected No. 1 pick Laremy Tunsil in Round 1.
Despite finishing with at least eight wins the past two seasons, the Bills own the longest playoff drought in football at 17 years. Their offseason extension for Tyrod Taylor and re-signing of Richie Incognito became overshadowed by a host of suspensions, injuries, and cuts.
So, in advance of the AFC East's first matchups, who will win the division this season?
Photo courtesy of USA Today Sports Images.
Follow @PFRumors