The Lions are set to kick off the 2016 season against the Colts this afternoon, but lost in the excitement only Week 1 can bring is the fact that Detroit is rapidly approaching a crossroads in franchise history. Quarterback Matthew Stafford's contract is set to expire after the 2017 season, and, as Michael Rothstein of ESPN.com observes, teams rarely let a franchise quarterback reach the final year of his deal without a contract extension.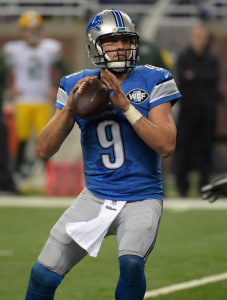 Rothstein sets forth the three options that the Lions have relative to Stafford's future with the club: keep Stafford as their quarterback for the rest of his career at a high price; let him play out the final year of his contract, realizing he may choose to test free agency after that season no matter what; or decide to move on from him and choose a quarterback high in next year's draft. All three options, of course, are fraught with risk.
The complicating factor in all of this is that while Stafford has done as much as could be expected of him from a statistical standpoint, the Lions have been mediocre at best with him under center, and Stafford has made just two playoff appearances in his seven-year career (although, to be fair, mediocrity is in many ways an improvement over the pre-Stafford era). That is perhaps why the team has not engaged Stafford's representatives in extension talks as of yet. Indeed, team president Rod Wood told Bill Shea of Crain's Detroit Business that while he has talked with ownership about Stafford's future, he has not yet talked to Stafford's camp. As Wood said, "When the time is right, we'll talk to his representatives about it. We've made long-term plans in terms of what that means to the team's budget."
Needless to say, Stafford's play this year will go a long way towards determining his future in the Motor City. The good news is that Stafford improved greatly once the Lions switched offensive coordinators to Jim Bob Cooter in the middle of last season, but the bad news is that this will be Stafford's first season without Calvin Johnson. But Stafford still has a reasonable amount of talent at the skill positions, and he is now the undisputed face of the franchise. As Dave Birkett of The Detroit Free Press points out, logic suggests that the Lions will try to sign Stafford to a third contract next off-season, a deal which could top Andrew Luck's five-year, $123MM extension in terms of value and which could briefly make Stafford the highest-paid player in league history.
But before that happens, GM Bob Quinn wants to see a couple of things.
First, Quinn wants Stafford, "to kind of take that next step, take the team, put them on his shoulders and kind of lead us to that improvement that we've talked about."
Quinn continued, "I love Matthew. I said it in my opening press conference what I thought about him, so I'll stand by that comment. But the other hand, I haven't been in this seat with him playing the game and I'm getting to know him as a person."
Finally, Quinn said, "He's a great guy. He's a good leader. He's really taken that and just listening to the people that have been here before, he's definitely taken a step in terms of the leadership and being more outgoing now that some of the older guys aren't here anymore. He's definitely taken that presence. So I'm looking forward to watching him play, watching him develop as a leader and when that stuff comes it will work itself out."
Photo courtesy of USA Today Sports Images
Follow @PFRumors