After the defending NFC East champion Redskins fell to 0-2 on Sunday with a 27-23 loss to the division-rival Cowboys, Mike Florio of Pro Football Talk reported behind-the-scenes frustration in Washington. Specifically, some Redskins players have complained about the early season performance of quarterback Kirk Cousins, a source told Florio. Cousins acknowledged his teammates' alleged frustration Monday, calling it "understandable" (per Breaking Burgundy.com).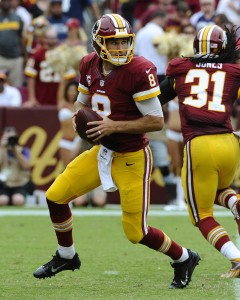 "I have to play better. You take ownership, you step to the forefront and you lead and you challenge guys and you say what you need to do better," said Cousins. "I think together, we can do that. That's what I'm going to do. That's what I've done my whole life, my whole life as a football player. This no different. This not new territory for me. I've faced challenges before, adversity before on the football field. We're going to find a way to move forward and play better. We're going to do it together."
So far this year, Cousins hasn't resembled the signal-caller who dominated during the second half of last season and helped the Redskins secure a division title. Cousins threw 19 touchdowns against two interceptions over the year's final eight games in 2015, which led the Redskins to place the franchise tag on him in the offseason.
Now making $19.95MM as Washington's franchise player, Cousins has tossed three picks against one score in two games, a pair of home defeats in which the Steelers and Cowboys outscored the Redskins 65-37. One major problem for Cousins thus far has been his work near the opposing end zone. As ESPN's Ed Werder tweeted Sunday, Cousins failed to complete any of his five attempts, one of which went for an interception, inside the Cowboys' 10-yard line in Week 2. Against Pittsburgh, he missed on two of three throws inside the 10 and also tossed a pick. During what seemed like a breakout showing last season, he amassed 16 scores and only one INT in the same area.
As the Redskins prepare for a crucial game this week against another NFC East opponent, the 2-0 Giants, head coach Jay Gruden is expecting a bounce-back effort from Cousins.
"Kirk's game will take care of itself. We have total faith that Kirk will get it done," he said Monday (via Lorenzo Reyes of USA Today). "And he will get it done. He has proven that he can be a successful quarterback in this league. He can make all the throws, without a doubt."
Photo courtesy of USA Today Sports Images.
Follow @PFRumors