Rams quarterback Jared Goff was inactive for Week 1, but the first pick in this year's draft took a step in the right direction when he served as Case Keenum's backup last Sunday. Now Goff is "close" to being ready to take the starting job from Keenum, head coach Jeff Fisher told John Clayton and Pat Kirwan of SiriusXM on Friday.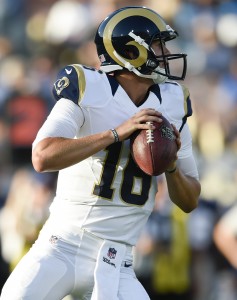 "There's still a gap between he and Case right now," said Fisher. "Everything that Case does, the familiarity with the offense, but he's closing the gap and he'll get in there, get his reps and make his plays, make the great throws that he's capable of."
The Rams are confident in Keenum, according to Fisher, but the 28-year-old has arguably been the worst quarterback in the NFL through the season's first two weeks. Keenum has completed just 35 of 65 attempts for 369 yards and two interceptions, and the Rams have scored a paltry nine points – all of which came in their 9-3 upset over Seattle last Sunday.
"We have a healthy quarterback right now in our starter and so we're just going to bring Jared along," added Fisher.
While Goff is "improving," per Fisher, it's fair to say the ex-Cal star hasn't developed as quickly as the Rams hoped he would when they traded up to draft him. General manager Les Snead sent several eminently valuable picks – including first-rounders this year and next – to the Titans to secure Goff, who became the first quarterback to go No. 1 overall and not start the opener of his rookie season since the Raiders' JaMarcus Russell in 2007. He also began the year behind 2015 third-rounder Sean Mannion on Los Angeles' depth chart.
Unlike the 21-year-old Goff, three signal-callers from this year's draft – Carson Wentz (Eagles), Dak Prescott (Cowboys), Jacoby Brissett (Patriots) – have already started at least one game, while Browns third-rounder Cody Kessler will join the group this week. Fisher downplayed their relevance to Goff's situation, however.
"Had this chain of events not happened — had (Dallas' Tony) Romo not gotten hurt and (Minnesota's) Teddy (Bridgewater) not gotten hurt and Sam (Bradford) stayed at Philly and then (Cleveland's) RGIII not gotten hurt — we wouldn't have any rookie quarterbacks playing," he said.
Injuries have indeed opened doors for each rookie starter this year, but as the draft's top two picks, Goff and Wentz will always draw comparisons. Thus far, Wentz is winning the battle. The former North Dakota State standout has connected on 43 of 71 attempts for 468 yards and three scores while helping the Eagles to a 2-0 start.
Photo courtesy of USA Today Sports Images.
Follow @PFRumors