The 49ers announced that they are bringing cornerback Will Redmond back from injured reserve. Redmond becomes the team's one short-term IR player for the season, meaning that they cannot bring anyone else back from IR. The team now has a 21-day window to monitor him in practice. If all goes well, he could debut as early as Dec. 6 against the Saints.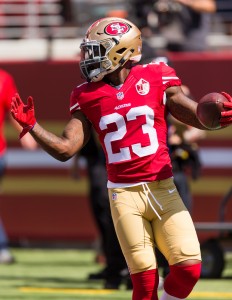 Redmond, a third-round pick out of Mississippi State, tore his ACL last October. The defensive back showed plenty of talent while in college, but the 49ers still weren't convinced that he was fully healthy.
The cornerback was late to sign his contract and did not put pen to paper with SF until June. The 22-year-old (23 in December) saw action in three seasons for the Bulldogs, playing in 27 games and making seven starts — all of which coming during the 2015 season. He made 25 tackles and two interceptions for Mississippi State last season, and despite the lack of experience as a starter decided to leave school early.
Photo courtesy of USA Today Sports Images.
Follow @PFRumors