Cowboys wide receiver Dez Bryant missed an MRI and team meetings earlier this week because he feared the worst on his injured right knee, but those absences were just the latest in a "pattern of irresponsible behavior," according to Adam Schefter of ESPN.com. Bryant has been late or completely missed between 20 and 40 meetings and or medical sessions during his career in Dallas, per Schefter.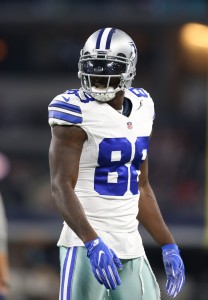 [RELATED: Tony Romo Targeting Week 8 Return]
The Cowboys organization and his agents at Roc Nation have helped him become more accountable, and Bryant has even hired a driver to ensure that he attends team functions on time. But one source told Schefter that Dallas can be accused of enabling Bryant, issuing him fines for his behavior instead of handing out more significant penalties. Another source, per Schefter, is concerned about Bryant's career longevity, as his poor sleep and dietary habits could limit his staying power.
Bryant, however, doesn't believe his actions to be a serious issue, according to Schefter, and the Cowboys have publicly supported their star receiver. As one Cowboys player said, Bryant is perhaps being treated differently because of his talent level. "If you were hoping for him to come to a scheduled meeting, he may or may not be there, but if you need a first down on third-and-14, throw it to Dez," said the anonymous player.
On the field, Bryant may be able to return sooner than originally thought. A source told Ian Rapoport of NFL.com that Bryant has a bone bruise, and that he should be able to play in less than three weeks.
Photo courtesy of USA Today Sports Images.
Follow @PFRumors