Back in August, the NFL suspended Giants kicker Josh Brown for Week 1 as a result of a May 2015 arrest on a fourth-degree misdemeanor domestic violence charge. The NFL came under fire for issuing what many perceived as a light punishment, but the league defended itself by pointing out that Brown's now-former wife was not willing to participate in an interview to support her claims. Brown, meanwhile, openly disagreed with the notion that he deserved the suspension.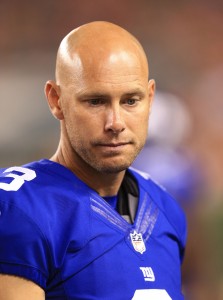 Now, two months after the league disciplined Brown, it's possible more trouble could be on the way for the 37-year-old. Police documents indicate that Brown admitted to physically abusing Molly Brown in emailed letters, personal journal entries and counseling exercises, reports James Kratch of NJ.com.
"I have physically, mentally, emotionally and verbally been a repulsive man," Brown wrote in a 2013 journal entry. "I have abused my wife."
As was previously reported, Molly Brown told police that her husband had been physically violent with her over 20 times, and that she previously had a protection order against him. Furthermore, she alleged that the violence began while she was pregnant with their daughter.
Per the latest details, Molly Brown revealed in her own writings that Josh Brown "pushes, shoves hits me because I challenge him" and "says women like me get hit because we can't shut up." Moreover, she provided photographic evidence stemming from his alleged abuse – including bruising on her body – to Robin L. Ostrum, a detective with the King County Sheriff Department in Washington. Ostrum used that material to recommend two charges of fourth-degree domestic violence to the King County Prosecuting Attorney on Sept. 14. The status of the recommended charges is unknown, according to Kratch.
The Giants re-signed Brown to a two-year deal in the offseason, when he was coming off his first Pro Bowl campaign, and garnered criticism for sticking with him after his suspension. Co-owner John Mara also admitted that the team knew of Brown's arrest at the time it re-signed him.
"Based on the facts and circumstances that we were aware of at that time, we were comfortable with our decision to re-sign him. Nothing that has happened in the mean time to make us question that decision," Mara said in August (via Kratch). "We attempted to make a informed decision here. We'll live with the results of that decision."
It's unclear whether this new information will affect Brown's standing with the Giants or lead to further discipline from the league. The former Ram and Seahawk is playing his fourth season in New York.
Photo courtesy of USA Today Sports Images.
Follow @PFRumors